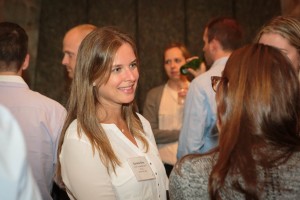 The Global Business and Policy Forum is a joint venture of the Lowell Milken Institute and the Center for Global Management at the UCLA Anderson School of Management. Twice each academic year, 25 law students and 25 business students attend a presentation by a leading scholar or practitioner concerning a business issue of global importance and then have dinner together at the UCLA Faculty Center to discuss the topic and questions presented to them.
For law students, this is a fabulous opportunity to network with business students, potentially future clients and partners. The Forum has covered a wide-range of topics. Students are not required to have prior knowledge, just a willingness to listen to the presentation and participate in a discussion with their peers.
Visit our Events page for information about upcoming Global Business and Policy Forum Events. Past Global Business and Policy Forum Events include:
February 29, 2016
The Road From Paris: Can the Paris Agreement Stave Off Catastrophic Temperature Increases?
More than 190 countries agreed last December to take steps to reduce greenhouse gases, finance adaptation to climate change in developing countries and limit temperature increases to below 2 degrees C.  While many observers hail the agreement as the first serious commitment to limiting the harm from climate change, others decry it as insufficient to prevent catastrophic damage.  Professor Ann E. Carlson, Shirley Shapiro Professor of Law and Faculty Co-Director of UCLA's Emmett Institute on Climate Change and the Environment, presented her views on the overall effectiveness of the Paris Agreement. Professor Carlson — who attended the Paris talks with a delegation of seven UCLA law students — explained the Paris Agreement, including its potential benefits and flaws.  Professor Carlson is one of the country's leading scholars of climate change law and policy. She recently served on a National Academy of Sciences panel, America's Climate Choices:  Limiting the Magnitude of Future Climate Change, and she is currently serving on an American Academy of Arts and Sciences panel studying the future of America's energy systems.
October 15, 2015
Greece's Debt Crisis and the Future of Europe
How did Greece get to this point? What would the implications of a Greek exit from the euro currency union and the European Union be? How does the crisis affect the global financial system?  Should the eurozone create a more federal-style system of transferring money as needed among members — the way the United States does among its various states? Will Greece follow other crisis countries in the eurozone, like Portugal, Ireland and Spain that have taken steps to overhaul their economies after successfully completing their own bail-out programs? What does the recent surge in migrants from the Middle East and Africa mean for Europe? Join Professors Ed Leamer and Sebastian Edwards for a discussion that will address these questions and more to provide a greater understanding of Greece's debt crisis and the future of Europe.

March 3, 2015
Business, Law and Green Chemistry
In the last decade the concept of green chemistry, sometimes called sustainable chemistry, has emerged from the halls of academia to boardrooms and state houses in the United States and globally. Timothy Malloy, Professor of Law; Faculty Director, UCLA Sustainable Technology and Policy Program, and Steve Maguire, Chaired Professor of Strategy and Organization, McGill University; Director, Marcel Desautels Instititute for Integrated Management, addressed questions regarding the business, economic and legal drivers of product innovation through "green chemistry."
November 13, 2014
High Frequency Trading
On any given day, high frequency traders (HFTs) are believed to account for up to 50% of all trades in U.S. equity markets.  Hanno Lustig, Professor of Finance and Director of the Master of Financial Engineering program at UCLA Anderson discussed "High Frequency Trading." Professor Lustig whose work focuses around the intersection of macroeconomics and finance and most recently, on the global currency carry trade shared his insights and perspectives on these automated trading strategies.
February 18, 2014
Bitcoin and the Future of Money
This discussion was with Sebastian Edwards, Economist and Henry Ford II Chair in International Management and Patrick Murck, a founding member and General Counsel of the Bitcoin Foundation whose expertise extends across the legal and regulatory issues governing the use of Bitcoin, virtual economies, gamification alternative payment systems, and social loyalty and reward programs.
November 12, 2013
Immigration in the Global Economy
Hiroshi Motomura, UCLA Susan Westerberg Prager Professor of Law and expert and influential scholar of immigration and citizenship law, presented, "Immigration in the Global Economy."