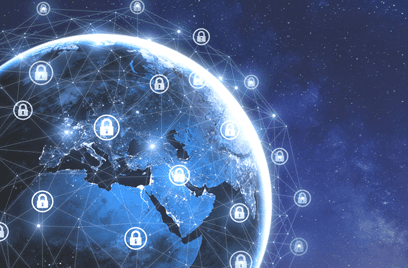 UCLA School of Law and UCLA Anderson students are invited to join the UCLA Anderson Center for Global Management and UCLA School of Law's Lowell Milken Institute for Business Law and Policy for a discussion with Terry Kramer, adjunct professor of technology management and faculty director, Easton Technology Management Center and Andrew Selbst, assistant professor of law for a presentation and discussion on the broad landscape of cybersecurity challenges that impact the consumer, enterprises and society in today's virtual world. They will discuss the risks, roles of government vs. enterprises vs. individuals and share their observations on the most promising areas of innovation to enhance cybersecurity while protecting individuals, enterprises and societies.
Technology-based innovation has created huge benefits along with a significant number of access points to the Internet from devices and transactions of all types – – connected devices in a variety of forms – – wearables, connected vehicles, connected appliances, coupled with an increased number of transactions whether they be videoconferencing, e-commerce, social networks, government-based identification applications, etc. With this innovation has also come increased risks and prevalence of cyber-attacks potentially crippling the benefits of technology-based innovation, damaging security of individuals, enterprises and governments, and ultimately challenging our way of life.
Hardly a month goes by without the announcement of another massive breach of data held by a government agency, a multi-national business or an essential service provider. Cyberwarfare, cyberespionage, and cyberterrorism are big challenges facing governments throughout the world and businesses large and small. And President Biden has made cybersecurity, a top priority for the Biden-Harris Administration at all levels of government.
Is the breach of any organization's cybersecurity just a matter of time? Can a modern commercial society organize itself to deal efficiently and effectively with breaches of cybersecurity? Are there regulatory schemes that can offer real protection to citizens and customers with respect to their private personal data? And how can technology be used to identify and eliminate cybersecurity risks?
Networking Reception at 4:45 p.m. Discussion begins at 5:15 p.m. Individual boxed dinners will be provided at 7:00 p.m. when the official program concludes. Students are free to depart or can stay, hang out, eat together and network.
Open to UCLA Anderson and Law School students only - look for your invitation via email. RSVP required.
Remote Participation Available Upon Request
Attire: Business Casual