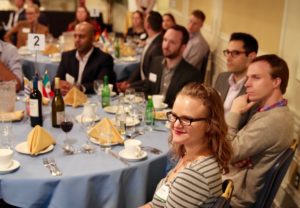 The Global Business and Policy Forum is a joint venture of the Lowell Milken Institute and the Center for Global Management at the UCLA Anderson School of Management. Twice each academic year, 25 law students and 25 business students attend a presentation by a leading scholar or practitioner concerning a business issue of global importance and then have dinner together at the UCLA Faculty Center to discuss the topic and questions presented to them.
For law students, this is a fabulous opportunity to network with business students, potentially future clients and partners. The Forum has covered a wide-range of topics. Students are not required to have prior knowledge, just a willingness to listen to the presentation and participate in a discussion with their peers.
Visit our Events page for information about upcoming Global Business and Policy Forum Events. Past Global Business and Policy Forum Events include:
March 8, 2023
The Global Minimum Tax: Will It End Tax Competition?
Kimberly Clausing, the Eric M. Zolt Chair in Tax Law and Policy and Gonzalo Freixes, associate dean and adjunct professor of accounting, law and international business had an interactive conversation that explored some of the impacts of a global minimum tax, and the consequences it may have for corporations and future government policy both in the U.S. and globally.
Some multinational corporations engage in tax motivated profit shifting. For example, corporations move intangible assets such as patents and intellectual property (IP) to countries with low tax rates and then report the revenues related to those assets in the low tax rate countries in order to avoid paying the higher tax rates in other countries, such as the United States, in which they are headquartered and do significant business. Some corporations are able to penetrate markets in countries in which they have no traditional presence, such as a brick and mortar store. As a result, the revenues earned in those countries in which they have only a digital presence are typically not subject to that country's taxing authorities.
For several decades, there has been a tax competition between countries lowering their tax rates to attract foreign investment. One effect of this competition is to degrade the tax base of countries.
The Organization for Economic Co-operation and Development (OECD)/Group of 20 (G20) Inclusive Framework has developed a plan to impose a global minimum corporate tax at 15 percent. In addition, a part of the plan would reallocate certain taxing rights toward the countries in which the users or customers are located, even if the company does not have a physical presence in that country. All corporations subject to the global minimum corporate tax will pay at least 15 percent of profits in taxes. Over 135 jurisdictions representing about 95% of the world economy have agreed to this plan.
Can the plan be implemented? What changes have to be made to implement and enforce it? Will it work? Are there loopholes? Will it have the desired effect of stopping or significantly reducing tax competition? What other consequences can we expect?
November 2, 2022
Cryptocurrency: Regulations, Implications and Complications!
Matthew Gertler (B.A. '11), General Counsel of Reserve, which has created a stable universal digital currency, led the discussion on cryptocurrency including how it should be regulated, its implications for the U.S. and global economies, and the challenges we are likely to confront as cryptocurrency becomes more prevalent in daily transactions. Gertler has been involved in fintech throughout his career, including time at Venmo, Earnest, and co-founding Digital Asset Research, an advisor to institutional investors in crypto. He was an associate at the international law firm, Milbank LLP, and also has his own law firm. Gertler earned his B.A. in economics and history from UCLA and a MSc in Digital Currency from the University of Nicosia. He also holds JD/MBA degrees from USC's Gould School of Law and Marshall School of Business.
Over a decade since the development of BITCOIN, financial and legal systems struggle to catch up with the explosion of cryptocurrencies. Coinbase reported that as of July 2022, there are more than 10,000 tradeable cryptocurrencies. One study estimates that 321 million people worldwide own cryptocurrencies as of mid-2022. Some analysts predict that the global blockchain market will grow by US$39 billion by 2025.
The past two years have witnessed a rollercoaster in the cryptocurrency markets. Comedian Larry David starred in a Superbowl ad that touted the virtues of investing in cryptocurrency, even if the investor cannot understand how it works. In January 2022, Bitcoin was trading at $37,928. At the beginning of September 2022, it is trading slightly over $19,000. Yet, despite its potential for volatility and concerns about its impact on the environment and its use in criminal activity, cryptocurrency is seen by many as a possible future of money and exchange.
Stephen Bainbridge, William D. Warren Distinguished Professor of Law and Christopher S. Tang, Distinguished Professor, Edward W. Chair in Business Administration and Faculty Director, Center for Global Management discussed the broad landscape of ESG and whether ESG is the road to a brighter future or a wrong turn in the history of the corporation and corporate governance.
Corporations, big and small, play a critical role in generating value in the economies of most developed nations. Historically, an investor has invested in a venture based upon the investor's prediction of the venture's ability to earn profits for the investor who, in turn, could use those profits at the investor's discretion to fund whatever projects the investor believed was important (e.g., building a personal villa or supporting an environmental cause). The corporation was agnostic as to how its shareholder used the profits distributed by the corporation, even if the shareholder used distributions to fund movements or support legal changes detrimental to the corporation. With the ESG movement in the U.S. and elsewhere, corporations are principal actors in attempting to achieve certain broader societal goals, including environmental sustainability and social responsibility. In turn, requiring them to divert earnings away from shareholders to satisfy those goals, even if some shareholders do not share the belief that such goals are in the shareholders interest.
This discussion with Terry Kramer, adjunct professor of technology management and faculty director, Easton Technology Management Center, and Andrew Selbst, assistant professor of law, covered the broad landscape of cybersecurity challenges that impact the consumer, enterprises and society in today's virtual world. Professors Kramer and Selbst discussed the risks, roles of government vs. enterprises vs. individuals and shared their observations on the most promising areas of innovation to enhance cybersecurity while protecting individuals, enterprises and societies.
Technology-based innovation has created huge benefits along with a significant number of access points to the Internet from devices and transactions of all types – – connected devices in a variety of forms – – wearables, connected vehicles, connected appliances, coupled with an increased number of transactions whether they be videoconferencing, e-commerce, social networks, government-based identification applications, etc. With this innovation has also come increased risks and prevalence of cyber-attacks potentially crippling the benefits of technology-based innovation, damaging security of individuals, enterprises and governments, and ultimately challenging our way of life.
Hardly a month goes by without the announcement of another massive breach of data held by a government agency, a multi-national business or an essential service provider. Cyberwarfare, cyberespionage, and cyberterrorism are big challenges facing governments throughout the world and businesses large and small. And President Biden has made cybersecurity, a top priority for the Biden-Harris Administration at all levels of government.
Is the breach of any organization's cybersecurity just a matter of time? Can a modern commercial society organize itself to deal efficiently and effectively with breaches of cybersecurity? Are there regulatory schemes that can offer real protection to citizens and customers with respect to their private personal data? And how can technology be used to identify and eliminate cybersecurity risks?
Edward A. Parson, Dan and Rae Emmett Professor of Environmental Law and faculty co-director of the Emmett Institute on Climate Change and the Environment and Charles Corbett, IBM Chair in Management, Professor of Operations Management and Sustainability discussed the challenges ahead for the U.S. and the world in forging solutions to address the central issue of our time – the impact of fossil fuel related emissions on human economic activity and wellbeing, including the role that businesses may take to meet the ambitious goals to stave off this existential threat.
The rules governing the formation, interpretation, and enforcement of contracts are generally well-settled in the U.S. and in many other jurisdictions that depend upon international commerce. However, like almost everything else, Covid-19 disrupted the rules and posed new challenges for parties trying to allocate risks and realize benefits through contracts. Although legal doctrines of force majeure, frustration and impracticability are well-established in doctrine, their applications in a specific context, such as Covid-19, are often uncertain.
UCLA Anderson Associate Dean and Professor Gonzalo Freixes and UCLA School of Law Professor Tim Malloy addressed the business and legal issues facing parties to contracts in which Covid-19 has possibly affected the parties' performance under the contract. They examined how different jurisdictions globally approach the problem and provided guidance on how contracting parties can try to protect the benefits of a contract or excuse performance in the face of a global pandemic.
Senators Elizabeth Warren and Bernie Sanders have both proposed ambitious wealth taxes as part of a plan to reduce inequality in the United States. These taxes will take from the very rich and use the revenue to support government programs for those at the bottom and middle of the income distribution. While the U.S. is considering adopting wealth taxes, most of the rest of the world have repealed them. Eric Zolt, Michael H. Schill Distinguished Professor of Law Emeritus at UCLA examined the arguments for and against a wealth tax, the likely revenue and economic consequences, and the administrative challenges of taxing the very wealthy.
Great Britain is in crisis. Its government is divided over the nation's withdrawal from the European Union (EU), known as Brexit, and has been unable to agree on an approach to the country's biggest peacetime decision in decades. A fervent proponent of withdrawal, Britain's Prime Minister Boris Johnson suspended parliament and critics have accused the Conservative leader of using the five-week suspension to avoid democratic scrutiny as he bids to deliver his pledge to bring the United Kingdom out of the European Union by October 31, with or without a deal. What ultimately emerges could determine the shape of Britain and its place in the world for decades. The Fed has explicitly mentioned Brexit uncertainty as one potential factor weighing on the U.S. outlook and a no-deal Brexit could cause a period of volatility in global financial markets. UCLA Anderson Professor Toby Raymond provided insights and perspectives on the future of Europe and what Brexit means for the United States and the world.
February 26, 2019
Artificial Intelligence: Key Opportunities and Challenges
Artificial intelligence will have a transformative societal impact in the coming years. While there is plenty that AI cannot do, it is perhaps the only technology in recent memory that, despite all the hype, will actually turn out to have been underhyped once its impacts are fully appreciated. John Villasenor, UCLA professor of public policy and management and member of the World Economic Forum's Global Agenda Council on Cybersecurity discussed what AI actually is, why it has become such a focus of attention and investment, and the resulting opportunities and challenges in relation to ethics, geopolitics, the labor market, combating bias, and regulation. He also addressed the intersection of technology, policy, law and business and broader impacts of key technology trends.
November 1, 2018
Trade Wars and the Impact on the U.S. and California
Although progress has been made with renewing NAFTA and agreements have been reached with Mexico and Canada, the risks associated with ever-increasing tariffs between China and the U.S. could have grave consequences globally. What benefits come from the international exchange of goods and services, which are risked by a trade war? What is unfair trade, and which countries pay for the taxes and other barriers to trade? Who are the winners and losers from a trade war? What policy responses are appropriate for dealing with bilateral imbalances, if any? What are the consequences of tariffs targeting selected countries and what allows an "American First" agenda that was not an option after WWII?
Politics affects many issues of an international nature, such as climate change. Bringing the nations of the world together to reach agreement through international mechanisms, such as the United Nations Framework Convention on Climate Change (UNFCCC), requires broad buy-in and follow-through for the long-term. Beyond the politics and policies of nation states, especially the U.S. and China (the two largest carbon emitters), governments around the world have put forward many climate change-related plans to meet their Paris commitments. Christine Loh, former Under Secretary for the Environment of the Hong Kong SAR government and a leading voice in public policy in Hong Kong discussed how governments meet these commitments, the critical importance of working with business and the need to galvanize the public to change behavior.
Hardly a month goes by without the announcement of another massive breach of data held by a government agency, an international business or an essential service provider. Cyberwarfare, cyberespionage, and cyberterrorism are big challenges facing governments throughout the world and businesses large and small. Of course, it is often the citizens and the customers that experience the damages inflicted by these attacks as they, in turn, become the victims of identity theft and related wrongdoing. Is the breach of any organization's cybersecurity just a matter of time? Can a modern commercial society organize itself to deal efficiently and effectively with breaches of cybersecurity? Are there regulatory schemes that can offer real protection to citizens and customers with respect to their private personal data? Is it inevitable that we will abandon traditional notions of privacy as our data, both deeply personal and trivial, are bought and sold by companies as well as international rings of malefactors? UCLA Law Professor Kristen Eichensehr, a frequent commentator on national and business cybersecurity, discussed these important issues.
The Future of the European Integration project and the future of the Euro is, once again, one of the major global risks factors for 2017. British Prime Minister Teresa May has promised to formally initiate Brexit sometime in March. The first round of the French Presidential election will be held on April 23 and the German general elections must be held before October 22. Italy is in its usual turmoil, aggravated by the failed referendum and the stepping down of Prime Minister Renzi, and Spain has a fragmented parliament, a minority government, and the threat of Catalonian independence. Portugal might need another bailout and the Greek pile of debt remains as unsustainable as it ever was. Will the European project and the Euro make it through this year? What will it take to keep Europe together? What might happen if it comes apart? Professors Javier Díaz-Giménez and Sebastian Edwards provided insights on the future of Europe and what 2017 holds for the continent post Brexit.
As companies increase their global business, the ethical issues their employees face grow in complexity and difficulty. Companies must adjust to local regulation, business practices, cultural mores and perceptions of their customers, employees and vendors. At the same time, U.S. laws and established corporate culture may prohibit certain types of conduct permitted or otherwise expected in foreign countries, and those prohibitions may appear to thwart a company's successful performance in the foreign country. How do companies address these challenges? What can we learn from the failures of some of the world's largest corporations? Professor Freixes addressed these issues and gave some context for the challenges business leaders face when it comes to business ethics in a global setting. Ben Heineman focused on the role of the senior officers, including the General Counsel, to develop the corporate will and processes to achieve high performance in emerging markets without sacrificing high integrity.
More than 190 countries agreed last December to take steps to reduce greenhouse gases, finance adaptation to climate change in developing countries and limit temperature increases to below 2 degrees C. While many observers hail the agreement as the first serious commitment to limiting the harm from climate change, others decry it as insufficient to prevent catastrophic damage. Professor Ann E. Carlson, Shirley Shapiro Professor of Law and Faculty Co-Director of UCLA's Emmett Institute on Climate Change and the Environment, presented her views on the overall effectiveness of the Paris Agreement. Professor Carlson — who attended the Paris talks with a delegation of seven UCLA law students — explained the Paris Agreement, including its potential benefits and flaws. Professor Carlson is one of the country's leading scholars of climate change law and policy. She recently served on a National Academy of Sciences panel, America's Climate Choices: Limiting the Magnitude of Future Climate Change, and she is currently serving on an American Academy of Arts and Sciences panel studying the future of America's energy systems.
How did Greece get to this point? What would the implications of a Greek exit from the euro currency union and the European Union be? How does the crisis affect the global financial system? Should the eurozone create a more federal-style system of transferring money as needed among members — the way the United States does among its various states? Will Greece follow other crisis countries in the eurozone, like Portugal, Ireland and Spain that have taken steps to overhaul their economies after successfully completing their own bail-out programs? What does the recent surge in migrants from the Middle East and Africa mean for Europe? Professors Ed Leamer and Sebastian Edwards discussed these questions and more to provide a greater understanding of Greece's debt crisis and the future of Europe.
In the last decade the concept of green chemistry, sometimes called sustainable chemistry, has emerged from the halls of academia to boardrooms and state houses in the United States and globally. Timothy Malloy, Professor of Law; Faculty Director, UCLA Sustainable Technology and Policy Program, and Steve Maguire, Chaired Professor of Strategy and Organization, McGill University; Director, Marcel Desautels Instititute for Integrated Management, addressed questions regarding the business, economic and legal drivers of product innovation through "green chemistry."
On any given day, high frequency traders (HFTs) are believed to account for up to 50% of all trades in U.S. equity markets. Hanno Lustig, Professor of Finance and Director of the Master of Financial Engineering program at UCLA Anderson discussed "High Frequency Trading." Professor Lustig whose work focuses around the intersection of macroeconomics and finance and most recently, on the global currency carry trade shared his insights and perspectives on these automated trading strategies.
This discussion was with Sebastian Edwards, Economist and Henry Ford II Chair in International Management and Patrick Murck, a founding member and General Counsel of the Bitcoin Foundation whose expertise extends across the legal and regulatory issues governing the use of Bitcoin, virtual economies, gamification alternative payment systems, and social loyalty and reward programs.
Hiroshi Motomura, UCLA Susan Westerberg Prager Professor of Law and expert and influential scholar of immigration and citizenship law, presented, "Immigration in the Global Economy."