Why Students Choose UCLA School of Law and the Lowell Milken Institute for Business Law and Policy
UCLA's School of Law and the Lowell Milken Institute for Business Law and Policy attract the best and brightest students. Here are some of the top reasons why: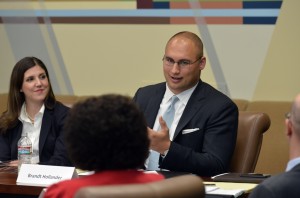 Top-Ranked – Year after year, the UCLA School of Law is one of the highest ranked institutions in the country. US News & World Report ranked UCLA as 16th among U.S. law schools in 2014.

World-Class Business Law Faculty – UCLA School of Law's commitment to recruiting and retaining the best faculty in the country is unwavering. Our Business Law faculty is comprised of the country's top legal minds in the areas of Bankruptcy Law and Policy, Corporate Governance, Law and Economics, and Tax Policy and Public Finance.  In every facet of our institution, through the amazing work of our faculty and staff, and embodied by our diverse and academically astute student body, UCLA School of Law is truly dedicated to pushing the field of law forward and upholding our tradition of progressive teaching, influential scholarship and enduring innovation.
Business Law Specialization – Offering law students the opportunity to tailor their legal education through specializations, UCLA Law was one of the first schools to offer – and remains a leader in –  transactional training in Business Law. Today, UCLA is one of only four law schools in the top 20 to offer a degree specialization in Business Law and Policy.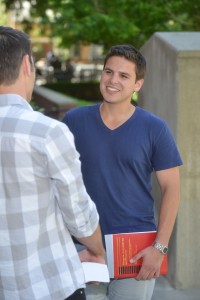 First-Rate Scholarship and Real-world Impact – Drawing on UCLA Law's existing strengths in Business Law and Policy – including its stellar faculty, outstanding students and long tradition of interdisciplinary collaborations – the Lowell Milken Institute for Business Law and Policy was established in 2011 to serve students, faculty and the greater community through the highest levels of scholarship and real-world training.  By supporting core academic programs, promoting new and innovative initiatives and providing financial support for students, the Lowell Milken Institute not only advances UCLA School of Law's strength in research and teaching, but also facilitates sustained dialogue with policymakers and practitioners that will leave a lasting impact on the larger legal and business communities.
Location, Location, Location – UCLA is in the heart of one of the world's most dynamic cities — Los Angeles – the "entertainment capital of the world." Our School of Law is situated on the northeastern edge of the campus in the community of Westwood. We're just minutes away from "Silicon Beach," a burgeoning area of Internet technology-related startup companies stretching from Santa Monica to Venice, as well as the iconic Santa Monica Pier, famous beaches, popular Hollywood hot spots and world-class shopping.
Limitless Opportunities – Los Angeles is a global city where culture, business and industry blend into opportunity. This is where four million people power the world's 15th largest economy – and where internship opportunities abound in the entertainment industry and with major corporations. It's a culturally diverse landscape where people from all corners of the world converge in pursuit of the great American dream. Our students are given every resource and opportunity to take advantage of all L.A. has to offer.
Notable Alumni – UCLA Law alumni are senior partners in some of the most prestigious firms in the region and country, successful entrepreneurs and well-known politicians who actively participate in student enrichment programs and activities as well as provide internships at law firms, entertainment companies and corporations.
Trailblazing Programs – Established in 1949, UCLA School of Law is the youngest among the top 20 law schools and has already established a strong reputation as an innovative leader in hands-on training that prepares students for real-world practice.
Joint Degree Programs – Several joint degree programs are available, consisting of four years of study and resulting in the simultaneous award of a Juris Doctor and a Master's Degree.  Programs offered in conjunction with other academic divisions at UCLA include J.D./M.B.A. degrees through the Anderson School of Management or J.D./M.A. degrees in Afro-American Studies, American Indian Studies, Philosophy, Public Health, Public Policy, Social Welfare or Urban Planning.
Master of Laws (LL.M.) Degree – The Master of Laws (LL.M.) advanced law certification program, designed for international students seeking global legal credentials and for U.S. Juris Doctor (J.D.) graduates desiring advanced legal study, further attests to UCLA School of Law's commitment to delivering curricular excellence in an encouraging, supportive and flexible learning environment that gives our graduates real-world advantages.
Research Centers and Programs – The Lowell Milken Institute for Business Law and Policy is one of approximately 20 research centers and programs at the UCLA School of Law.
Premier Law Library – The Hugh & Hazel Darling Law Library is the primary place of study and research for the UCLA School of Law community. Seating 775, the newly renovated building offers wireless and wired network/Internet access throughout; provides access to thousands of online resources; and houses nearly 600,000 bound volumes.
Law Reviews and Journals – UCLA Law publishes a dozen highly regarded law reviews and journals.
Student Organizations –The school offers approximately 40 organizations in which students can get involved.
Diverse Student Body – More than 32 percent of the UCLA law students are students of color: 5.3% of the student body identify as African-American, 17.8% as Asian, 8.4% as Hispanic or Latino(a) and 1.3% as Native American. The student body is 49% female and 51% male.
University-Owned Housing – Law students may take advantage of university-owned housing only a few minutes walk from campus.
 
For information about the Business Law and Policy specialization requirements, or to get started in the online interview/application process for UCLA School of Law, please visit the links below:
Business Law and Policy Specialization Requirements