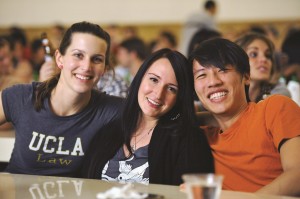 In 2011, UCLA School of Law established the Lowell Milken Institute for Business Law and Policy with a $10 million gift from alumnus Lowell Milken. The institute focuses on research in business law and policy in bankruptcy, corporate governance, law and economics, and tax policy and public finance.
Students who wish to focus their schooling in a particular area of business law can earn a certificate of completion with their J.D in any of the following five tracks:
Business Law
Bankruptcy
Mergers and Acquisitions
Securities Regulation
Taxation
The Master of Laws (LL.M.) advanced law certification program also offers a Business Law and Policy concentration with four separate tracks:
Bankruptcy
Business Law
Securities Regulation
Tax
The Business Law and Policy specialization offers an unparalleled opportunity for students who want to be prepared for transactional practice at the highest level. We produce lawyers who combine legal analysis with a thorough understanding of the business client's goals and challenges and the tools necessary to meet the client's needs.
Of course, not all business lawyers are transactional lawyers.  Indeed, in today's legal market many litigators also act as business lawyers and regularly counsel their clients in regard to a myriad of business-related matters.  For these lawyers as well, the training, understanding and experience offered in our Business Law and Policy specialization are extraordinarily valuable and set them apart from their peers.
Business Law and Policy Specialization Requirements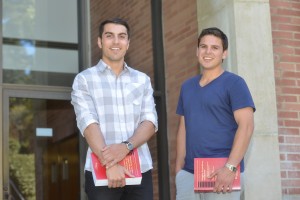 Some of the Ways We Support Our Students:
Providing opportunities to collaborate and compete through real-world experiences and diverse extracurricular activities that enrich the law school experience.

A student favorite, the Lowell Milken Institute Roundtable Lunches give students an opportunity to discuss issues of interest with distinguished visitors, in a small-group, informal setting.
Nurturing the next generation of business leaders and scholars through critically needed financial assistance. Scholarships and prizes not only attract the best and brightest students but also keep the promise of access to a world-class legal education alive for people from all walks of life.

Among the most coveted honors is the Bruce I. Hochman Award for Excellence in the Study of Tax Law which is presented to the student in the graduating class who has demonstrated outstanding proficiency in the field.  The recipient of the $15,000 award is selected by UCLA School of Law tax faculty and is announced at the commencement ceremony in May. The award honors Bruce I. Hochman, who was a member of the first UCLA Law School graduating class of 1952.
 Reaching out to numerous student organizations, which promote awareness of issues and opportunities in the business law field. Examples include the Business Law Association, the Law and Economics Society, the Real Estate Law Association, the Tax and Estate Planning Association and the Volunteer Income Tax Assistance Clinic.

Programs
Examples of the many opportunities our students have to gain real-world experience through collaboration and competition include:
Transactional LawMeet℠
The premier "moot court" experience for students interested in transactional practice, the National Transactional LawMeet® forms a part of the LawMeet® family of live, interactive, educational competitions designed to give law students hands-on experience in developing and honing transactional lawyering skills.
The 2015 Western Regional LawMeet® will convene on Friday, February 27, 2015 (location to be announced). The top team from each side of the negotiation representing each of seven Regional Meets will be invited to compete at the National Meet on Friday, April 10, 2015 in New York City.
UCLA School of Law students who would like to apply to be on this year's Transactional LawMeet team can visit the Lowell Milken Institute MyLaw page for an application.

Ninth Circuit Bankruptcy Negotiation Competition
In this competition, teams consisting of two to three upper-level students from 12 law schools work through an identical mock bankruptcy case similar to what they will encounter in real-life practice. The competition involves preparation and exchange of written term sheets followed by two rounds of in-person negotiations with the objective to avoid bankruptcy by successfully negotiating with the opposing side. Each team has several months to develop a strategy for the case and then is assigned to represent either the prospective debtor or its unsecured creditors.
Judges provided by the American College of Bankruptcy evaluate teams both on their strategy and how well they interact with other members of their team.
The inaugural competition, co-sponsored by the American College of Bankruptcy and the University of Southern California Gould School of Law, was held at USC on January 26, 2013. UCLA Law's team was coached by Peitzman Weg Partner Lawrence Peitzman.

Pircher, Nichols & Meeks Joint Venture Challenge Sponsored by Lowell Milken Institute for Business Law and Policy and Ziman Center for Real Estate
Sponsored by the Lowell Milken Institute for Business Law and Policy and UCLA'S Ziman Center for Real Estate, this challenge teams up students from UCLA School of Law and UCLA Anderson School of Management to compete in a simulated joint venture real estate deal prepared by Phil Nichols, a founder of Pircher, Nichols & Meeks.
The competition involves teams of three to four students working through both legal and business issues to prepare a professional memorandum answering numerous questions posed by a hypothetical general counsel and investment partner. At the conclusion of the event, two experts in the field present a model answer to the participants.
The winning team in the 2013 Challenge, which shared a $3,000.00 prize, was chosen based on the most comprehensive and correct answers to the questions presented. Read More >>

The UCLA Business Law Breakfast Series
The series provides an informal venue for the discussion of current business law issues with the region's business and legal communities, including attorneys, accountants, investment bankers and academics.
Previous speakers have included: Neil Barofsky, who served as the Special Inspector General for the Troubled Assets Relief Program ("SIGTARP") during the financial crisis; Professor Charles M. Elson, a leading expert on executive compensation and corporate governance; former California State Treasurer Phil Angelides; and Kenneth R. Feinberg, special master for TARP Executive Compensation.

Lowell Milken Institute Roundtable Lunches for Students
This roundtable provides an intimate forum in which students can discuss issues of interest with distinguished visitors in a small-group, informal setting. Past Roundtable Lunch speakers include: SEC Commissioner Troy Paredes; UCLA School of Law alumna Kathy Bazoian Phelps, author of The Ponzi Book: A Legal Resource for Unraveling Ponzi Schemes; Neil Barofsky, Special Inspector General for the Troubled Assets Relief Program ("SIGTARP") during the financial crisis: Haim Bodek, a Managing Principal of Decimus Capital Markets, LLC; and Mary Rose Brusewitz, a UCLA Regents Lecturer and UCLA School of Law alumna who specializes in international transactions.