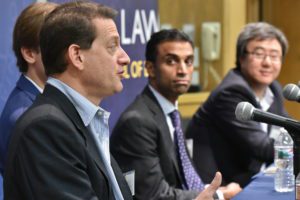 Located in UCLA's back yard, the Silicon Beach economy is exploding. Our popular Silicon Beach conferences explore the legal and policy issues faced by more than 500 tech startups, incubators and accelerators as well as companies like Snap. Attendees of the conferences gain an understanding of the issues critical to this burgeoning hub of entrepreneurship in West LA and the beach cities of Santa Monica, Playa Vista and Venice.
Sign up for our mailing list to receive the schedule and registration information for our next Silicon Beach conference.
---
Liquidity and Silicon Beach: IPOs, M&A and More!
Friday, November 8, 2019
The Liquidity and Silicon Beach conference considered whether, when and how entrepreneurs and their investors should structure a transaction that allows investors to cash out of their investments in whole or in part, such as going public, a sale of the venture or an alternative structure that potentially generates cash for investors. The conference was built around a panel of entrepreneurs and investors serving as a mock board of directors of a hypothetical company, NotRealMeat.
The Technology of Silicon Beach
Friday, November 2, 2018
The Technology of Silicon Beach conference addressed three important areas: Technology Start-Ups, Investing in Technology, and Law and Technology.
Law and Entrepreneurship in Silicon Beach
Friday, March 9, 2018
The Law and Entrepreneurship in Silicon Beach conference examined Silicon Beach with a focus on law and entrepreneurship. Panels covered issues of start-up governance, focusing on the recent controversy over Snap's dual class stock, financing start-ups and the JOBS Act Reforms and innovations such as the initial coin offering, and the acquisitions of start-ups.