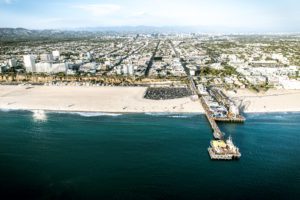 Located in UCLA's backyard, the Silicon Beach economy is exploding with more than 500 tech startups, incubators and accelerators as well as public companies such as Snapchat. The Technology of Silicon Beach conference focused on emerging technologies and some of their associated legal and financial issues.
The Silicon Beach Conference featured investors, lawyers and technology experts. If you would like to receive information about future events, please sign up for our mailing list.
Panel 1: Technology Start-ups

Jonathan Chou
Co-Founder & CEO, The Bee Token

Ray Christian
Founder and CEO, Textpert

Aaron Hawkey
Founder, BallerTV

Dr. Amy Wang
CEO, Enspire Bio

Moderator: Joel Feuer
Executive Director, Lowell Milken
Institute for Business Law and
Policy at UCLA School of Law

Panel 2: Investing in Technology

Greg Gilman
Founder, Science Inc. and Science
Blockchain

Amir Naiberg
Associate Vice Chancellor, UCLA
Technology Development Group

Chang Xu
Principal, Upfront Ventures

Moderator: Elaine Hagan
Executive Director, Harold and
Pauline Price Center for
Entrepreneurial Studies at
UCLA Anderson School of Management

Panel 3: Law and Technology

Shahin Farshchi
Partner, Lux Capital

Mike Heath
Partner, Gunderson Dettmer

Eugene Volokh
Gary T. Schwartz Distinguished
Professor of Law,
UCLA School of Law

Nancy Wojtas
Partner, Cooley

Moderator: James Park
Professor of Law and Faculty Director,
Lowell Milken Institute for Business
Law and Policy at UCLA School of Law
This event was sponsored by the Lowell Milken Institute for Business Law and Policy, Program on Understanding Law, Science, and Evidence and UCLA School of Law. It was a private event, open to UCLA School of Law faculty, students and invited guests.
Directions and parking information
UCLA School of Law is a State Bar of California approved MCLE provider. This activity qualifies for 3 hours of general MCLE credit.
MCLE Material:
J. Heminway, "Why Can 't We Be Friends? A Business Finance Lawyer's Plaintive Plea to Entrepreneurs"
J. Coyle & J. Green, "The SAFE, the KISS, and the Note: A Survey of Startup Seed Financing Contracts"
Nancy H. Wojtas, "Top 10 "DOs" and "DON'Ts" if the SEC Calls about your Token Offering; What to Expect"
Mark Lemley and Eugene Volokh, Law, Virtual Reality and Augmented Reality, 166 University of Penn Law Rev. 1050 (2018)
R. Calo, "Artificial Intelligence Policy: A Primer and Roadmap," 51 U.C. Davis Law Rev. 399 (2017)
S. Levi & A. Lipton, "An Introduction to Smart Contracts and Their Potential and Inherent Limitation"
SEC's Webpage on Initial Coin Offerings
SEC's fake ICO offering, Howeycoin
Smart Contracts: Is the Law Ready?
Understanding Digital Tokens: Market Overviews and Proposed Guidelines for Policymakers and Practitioners