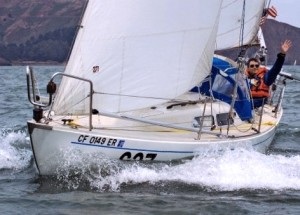 "Being offered the first Kirschbaum Scholarship significantly influenced my decision to attend UCLA over other highly ranked schools. I grew close to the other Kirschbaum Scholars during my time at UCLA. It was immensely useful to be put in touch with the heartbeat of the Los Angeles area tax community—essentially all of whom comprise Tom's close friends. The mentoring opportunities this afforded were priceless. I am now a practicing tax attorney at Paul Hastings and I am proud to associate myself with Tom's memory and with his friends and family." Noah Metz '13
"The Kirschbaum Scholarship has been a tremendous help as I begin my legal education and pursue my career goals. I am so grateful for this opportunity." Ryan Hicks '15
"This scholarship was a significant factor in my decision to attend UCLA Law, and I can already say that I could not be happier with my choice. This opportunity has inspired me to give back to the school as well and stay involved in the evolution of the Kirschbaum Scholarship throughout my legal career." Ryan Shumacher '14
"A major factor in my decision to enroll at UCLA was the law school's strong tax program. This is evidenced not just by the school's renowned tax faculty, but also by the Thomas A. Kirschbaum Scholarship and its dedication to students pursing studies in tax law." Alan Beadle '16
The Kirschbaum Scholarship at UCLA School of Law
The Thomas A. Kirschbaum Scholarship in Tax Law is an innovative scholarship that serves as a model for legal education in business law. Since the fall of 2011, the Kirschbaum Scholarship has been awarded by UCLA School of Law each year to one or two incoming law students (either first-year or transfer students) who have demonstrated an interest in and aptitude for studying tax law and who evidence the personal qualities required to become an exemplary professional and individual. In addition to receiving financial support, the recipients receive support that money cannot buy: they are mentored by UCLA Law alumni, many of whom practice tax law. Awardees are provided access to the robust tax law community in Los Angeles and beyond. Professional doors are flung open, and professional and personal friendships develop with experienced and successful practitioners.

Thomas A. Kirschbaum
Thomas A. Kirschbaum was an outstanding tax lawyer and nationally recognized expert in benefits and compensation tax and related matters. He was known for his keen and probing intellect, his broad and deep interests outside of the law, encompassing literature, opera and competitive sailing, his wit, and his commitment to his family and community. Thomas Kirschbaum was a graduate of Amherst College and UCLA School of Law. Following his death in May 2010, Thomas Kirschbaum's family and friends created the Thomas A. Kirschbaum Scholarship in Tax Law to honor his memory and continue his legacy.

Support the Thomas A. Kirschbaum Scholarship in Tax Law
Contributions to support the Thomas A. Kirschbaum Scholarship in Tax Law may be made by visiting www.law.ucla.edu/giving or by mailing your check to:
Office of External Affairs
UCLA School of Law
Box 951476
Los Angeles, CA 90095-1476
Questions may be directed to Rosalind Hilman at Hilman@law.ucla.edu or 310-206-4621.
Contributors of $10,000 or more will be recognized as Thomas A. Kirschbaum Scholarship Founders and their contributions and legacy will be celebrated in perpetuity as we honor Tom's legacy. All supporters of the Scholarship fund are encouraged to become active in growing Tom's Scholarship and mentoring its scholars.
All gifts will count toward the Law Firm Challenge and Reunion Challenge.