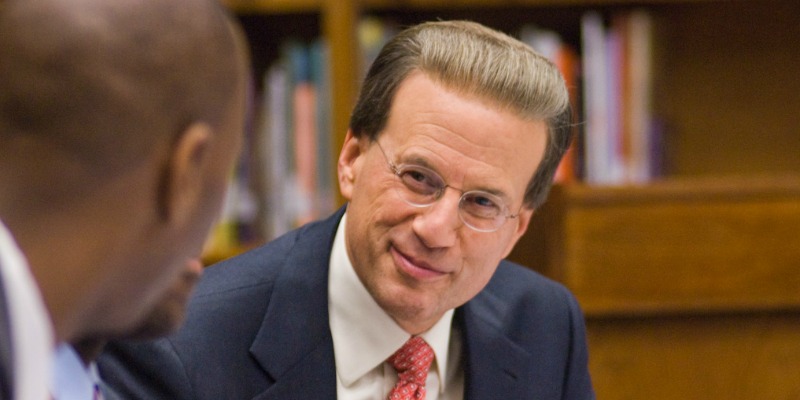 "At a time when our state's great universities are under significant financial pressure and constraints, it is incumbent upon those of us who benefited greatly from our educational experiences within the UC system to help support the outstanding work of these universities." –Lowell Milken
An innovative business leader and pioneering philanthropist in education reform, Lowell Milken serves as chairman of two global corporations, chairman of the renowned Milken Family Foundation, and founder of several nonprofit initiatives impacting education reform across the country.
Of his 2011 gift to the school, Lowell has said: "my UCLA Law educational experience has proven its worth in diverse situations and decisions. . . I wished to give something to the School of Law in return." An international businessman, Lowell is co-founder of Knowledge Universe, a world leader in early childhood education. Headquartered in Singapore, Knowledge Universe operates worldwide with more than 30,000 employees. Lowell is also chairman of London-based Heron International, a leader in property development and investment.
As chairman and co-founder of the Milken Family Foundation, Lowell Milken's dedication to education reform has been informed by more than three decades of education research, policy and practice, as well as firsthand visits to thousands of classrooms. Lowell created the Milken Educator Awards in 1985, and today is the nation's most prominent teacher-recognition program.
In 1999, Lowell Milken founded TAP: The System for Teacher and Student Advancement, a proven, comprehensive school reform to attract, develop, motivate and retain the best talent for the American teaching profession. As a result of TAP's rapid growth, powerful outcomes and increasing demand, in 2005 Lowell Milken established the National Institute for Excellence in Teaching (NIET) as an independent public charity to support and manage the TAP system nationwide. NIET also operates the Best Practices Center, which provides technical expertise, professional development and training modules to those implementing a diverse range of teacher quality reforms. With a dedicated staff drawn from the fields of education and business, NIET creates partnerships with schools, districts, states and community organizations to ensure TAP's effectiveness and sustainability in a diverse set of urban, rural and suburban schools across America. Together TAP and NIET every day impact the teaching and learning of more than 200,000 teachers and 2.5 million students nationwide.
Lowell Milken is a graduate of the California public school system, graduating Phi Beta Kappa and summa cum laude from the University of California, Berkeley, where he received the School of Business Administration's Most Outstanding Student award. At UCLA School of Law, he earned his degree with the distinction of Order of the Coif and UCLA Law Review. In 2009 he was UCLA School of Law's Alumnus of the Year.