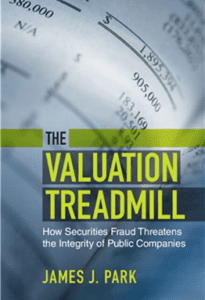 UCLA School of Law Professor James J. Park will discuss his new book, The Valuation Treadmill, an analysis of how securities fraud is the inevitable result of the incentives on corporate managers to deliver strong short-term performance every quarter.
Professor's Park's scholarship draws on case studies of some of the most important securities enforcement actions including Xerox, Penn Central and General Electric. Please join us for Professor Park's discussion of the consequences of modern valuation analysis and its effects on the integrity of public markets.
This event is sponsored by Lowell Milken Institute for Business Law and Policy and UCLA School of Law. This is a private event, open to invited guests. For questions, please email lowellmilkeninstitute@law.ucla.edu.
UCLA School of Law is a State Bar of California approved MCLE provider. This activity qualifies for one hour of general MCLE credit.
CLE Materials:
ESG Securities Fraud - James J. Park
Shareholder Wealth Maximization and Securities Fraud - James J. Park
From Managers to Markets: Valuation and Shareholder Wealth Maximization - James J. Park