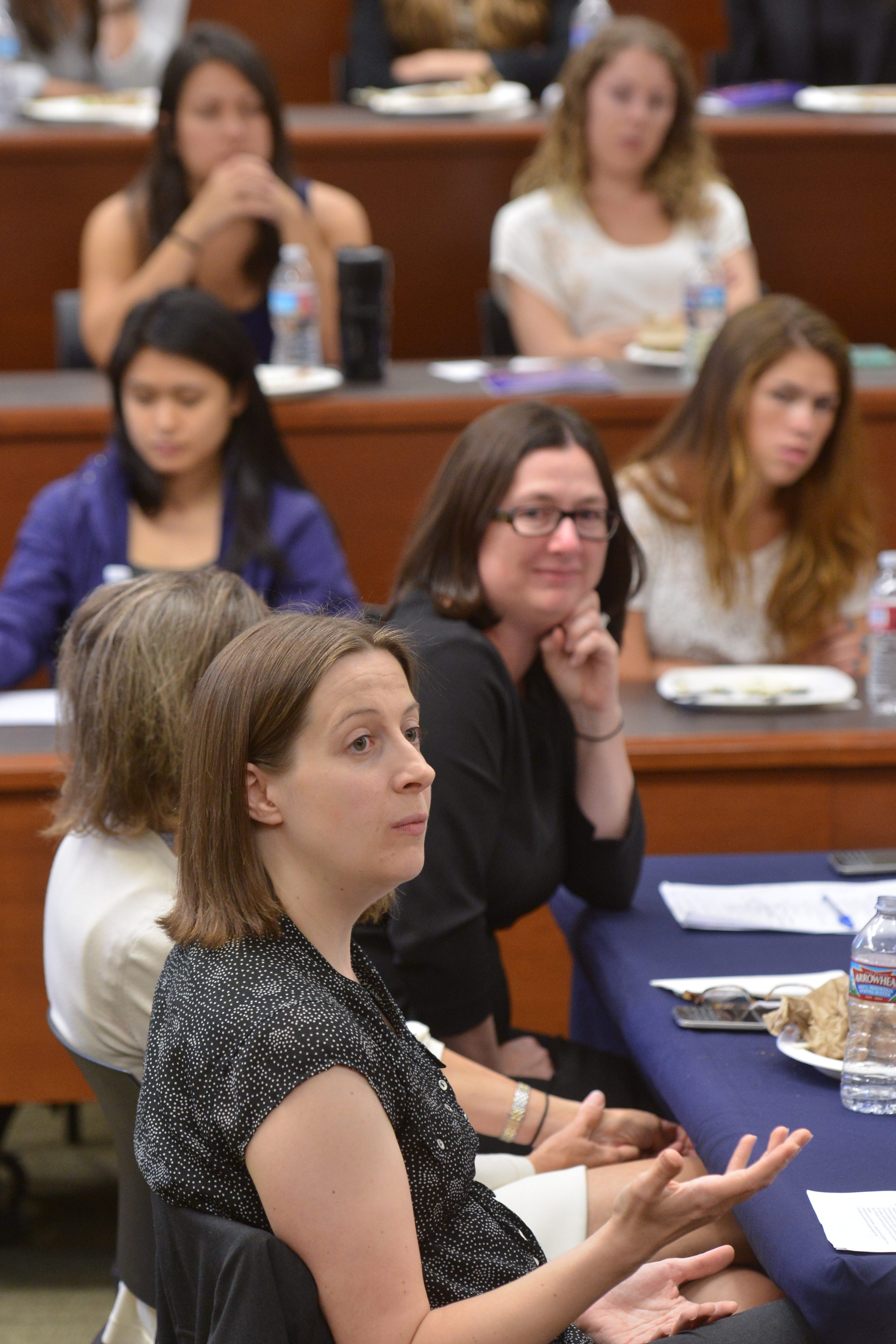 The roundtable lunch provided an opportunity for students to interact directly with and engage in an open conversation regarding the opportunities and challenges for women interested in practicing business law.
This event was presented by Lowell Milken Institute for Business Law and Policy and Sullivan & Cromwell LLP, and was open to invited guests, faculty, staff and students. For questions, please email lowellmilkeninstitute@law.ucla.edu.
S&C Participants:
Alison S. Ressler is a partner in S&C's General Practice Group and is a leading authority on mergers and acquisitions, corporate governance and capital markets. In addition to her active practice, Ms. Ressler has sat on S&C's Management Committee since 2003—the first female and first non-New York partner to become one of the committee's nine appointees. Ms. Ressler also serves as co-head of the Global Private Equity Group and is responsible for the Firm's practice in California.
Rita-Anne O'Neill is a corporate partner in S&C's General Practice Group who has a broad-based practice that includes advising clients on mergers and acquisitions, securities offerings and leveraged finance transactions, and providing general corporate advice on disclosure and governance. Ms. O'Neill also serves on the American Bar Association's Women in M&A Task Force.
Antonia Stamenova-Dancheva is an associate in S&C's Litigation Group. She represents clients in a range of complex commercial litigation matters, including antitrust, products liability and securities litigation. She is actively involved in the Firm's pro bono practice and recently assisted in obtaining a landmark right to legal representation for indigent immigrants with mental health issues.
About S&C
More than 30 years ago, Sullivan & Cromwell LLP opened one of the first Los Angeles offices of a major New York law firm, and in 2000 opened a second California office in Palo Alto. The practice of the California offices reflects the breadth and prominence of S&C generally, spanning broad industry areas and emphasizing representation of companies in mergers and acquisitions, dispositions and joint ventures, securities offerings, litigation, corporate governance, intellectual property and leveraged finance. The results the Firm achieves have set it apart for more than 130 years and have become a model for the modern practice of law. Today, S&C is a leader in each of its core practice areas and in each of its geographic markets. S&C comprises approximately 800 lawyers who serve clients around the world through a network of 12 offices, located in leading financial centers in Asia, Australia, Europe and the United States. To learn more about S&C, please visit www.sullcrom.com.