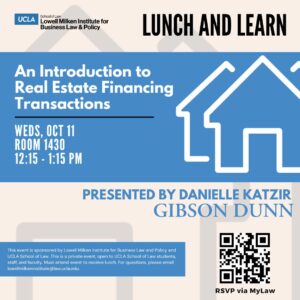 Danielle Katzir from Gibson Dunn will provide an introduction to real estate financing transactions and the joint venture structure and documents.
UCLA School of Law students can RSVP via MyLaw.
This event is sponsored by Lowell Milken Institute for Business Law and Policy and UCLA School of Law. This is a private event, open to UCLA School of Law students. For questions, please email lowellmilkeninstitute@law.ucla.edu.​