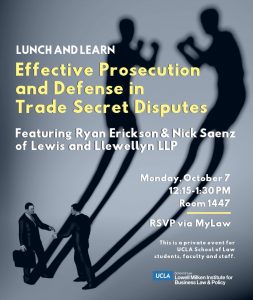 Nick Saenz and UCLA Law alum Ryan Erickson will introduce students to protect their clients most important assets – trade secrets.
UCLA School of Law students are invited to RSVP to this event via MyLaw.
This event is sponsored by Lowell Milken Institute for Business Law and Policy and UCLA School of Law. It is a private event, open to UCLA School of Law students. For questions, please email lowellmilkeninstitute@law.ucla.edu.