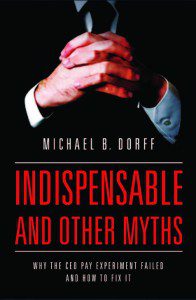 Author Michael B. Dorff, Professor of Law, Southwestern Law School, compared 50 years of public company executive compensation to stock prices. He explained that there is no relationship between increased executive compensation and increased share performance.
Professor Dorff recommended that executive pay be linked to an individual matrix of business specific milestones or goals rather than stock price. To be effective, he noted, goals should be those that are largely within the officers' control, hard to manipulate, important to the corporation's longer term goals and easy to measure.
This lively and informative discussion included commentary by Stephen M. Bainbridge, William D. Warren Distinguished Professor of Law, UCLA School of Law in support of Professor Dorff's research and conclusions.