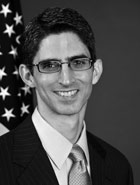 Dodd-Frank in Theory and Practice followed by Q&A
Troy Paredes, U. S. Securities and Exchange Commissioner
Agenda:
7:30 am to 7:45 am – Registration and Breakfast
7:45 am to 8:00 am – Introduction
8:00 am to 9:00 am – Program
Commissioner Paredes was appointed by President George W. Bush to the U.S. Securities and Exchange Commission and was sworn in on August 1, 2008.
Before joining the SEC, Commissioner Paredes was a tenured professor at Washington University School of Law in St. Louis, Missouri. He also held a courtesy appointment at Washington University's Olin Business School. Commissioner Paredes primarily taught and researched in the areas of securities regulation and corporate governance.
Before joining Washington University's faculty in 2001, Commissioner Paredes practiced law at prominent national law firms. As a practicing lawyer, Commissioner Paredes worked on a variety of transactions and legal matters involving financings, mergers and acquisitions, and corporate governance.
A native of southern California, Commissioner Paredes now lives with his family in the Washington, D.C. area.