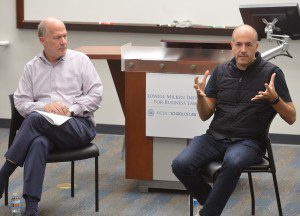 [caption id="attachment_4412" align="alignleft" width="300"] Joel Feuer, Executive Director of the Lowell Milken Institute for Business Law and Policy, and Mike Jones, CEO of Science Inc.[/caption]
Mike Jones is the CEO of Science Inc. a disruptive media, marketing and commerce company that creates, invests, acquires and scales successful digital businesses. The company has co-founded and invested in more than 40 companies, including DollarShaveClub, DogVacay, HelloSociety, Delicious, Refame, PrizeCandle and Hiq among others.
Mike is a long-time entrepreneur, with experience ranging from early stage start-ups to private equity backed assets and from mid-stage business to large turn-around operations. A serial Internet entrepreneur, Mike has founded, advised, invested and sold numerous businesses, including application platform Userplane, which he led from startup to its acquisition by AOL, Tsavo Media, Movoxx, PeopleMedia, Brizzly and Myspace. Mike is actively involved with early-stage start-ups as an investor, advisor and board member. For more information on Science Inc., visit www.Science-Inc.com or follow @ScienceInc.
For more information on the Lowell Milken-Sandler Prize for New Entrepreneurs visit us at www.UCLALawPrize.com