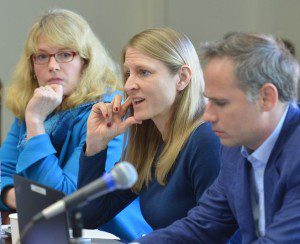 The Experimental Methods in Legal Scholarship [EMLS] Workshop brought together participants with economics and psychology backgrounds. Recent experimental working papers were presented with two discussants assigned to each of them.
A special session was devoted to discuss methodological differences between psychologists' and economists' approaches to conducting experiments in law.
Tom R. Tyler, Yale Law School, and Gary Charness, UC Santa Barbara Economics, gave twin keynote lectures in which they focused on methodological differences between psychology and economics.
The EMLS Workshop was sponsored by the Lowell Milken Institute for Business Law and Policy and the UCLA Center for Law and Economics.
Participant List:
Jennifer Arlen, NYU School of Law
John Asker, UCLA Department of Economics
Oren Bar-Gill, Harvard Law School
Stefan Bechtold, ETH Zurich, Switzerland
Kenworthey Bilz, University of Illinois College of Law
Richard Brooks, Yale Law School
Christopher Buccafusco, IIT Chicago-Kent College of Law
Gary Charness, UC Santa Barbara Economics
Christoph Engel, Max Planck Institute for Research on Collective Goods
Alon Harel, Hebrew University of Jerusalem
Russell Korobkin, UCLA School of Law
Robert J. Maccoun, Stanford Law School
Janice Nadler, Northwestern University School of Law
Dan Simon, USC Gould School of Law
Avani Sood, UC Berkeley School of Law
Holger Spamann, Harvard Law School
Christopher Sprigman, NYU School of Law
Rebecca Stone, UCLA School of Law
Alexander Stremitzer, UCLA School of Law
Eric Talley, UC Berkeley School of Law
Tom R. Tyler, Yale Law School
Kathryn Zeiler, Georgetown Law