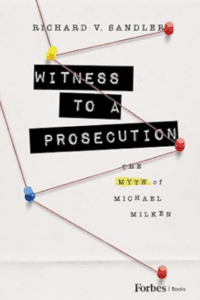 Please join us to hear Richard Sandler discuss his new book, Witness to a Prosecution: The Myth of Michael Milken.
Richard Sandler (JD'73) provides a first-hand account of the prosecution of Michael Milken. In the 1980's Michael Milken was the most innovative financier of his time. He developed the high-yield debt market as a way of financing companies that historically could not access the traditional capital markets. In 1986, the Securities and Exchange Commission and the US Attorney's Office for the Southern District of New York began an investigation of Milken, his firm Drexel Burnham Lambert, and its High Yield and Convertible Bond Department. Richard Sandler served as counsel for Michael Milken in connection with the investigation and resulting proceedings.
In his book, Richard Sandler uses transcripts and court documents as well as interviews with many of the counsel involved in the proceedings to provide an insightful analysis of a high-profile case. Sandler's book describes the tremendous power of the government when it decides to go after an individual and raises serious questions about the criminal law system's commitment to justice.
UCLA School of Law is a State Bar of California approved MCLE provider. This activity qualifies for 1 hour(s) of general MCLE credit.
This event is sponsored by Lowell Milken Institute for Business Law and Policy and UCLA School of Law. This is a private event, open to UCLA School of Law students, faculty and invited guests. For questions, please email lowellmilkeninstitute@law.ucla.edu.
Parking at UCLA Faculty Center.
MCLE Material:
Department of Justice, Principles of Federal Prosecution, https://www.justice.gov/jm/jm-9-27000-principles-federal-prosecution
ABA Mpdel Rules of Professional Conduct, Special Responsibilities of a Prosecutor https://www.americanbar.org/groups/professional_responsibility/publications/model_rules_of_professional_conduct/rule_3_8_special_responsibilities_of_a_prosecutor/comment_on_rule_3_8/
ABA Criminal Justice Standards, Prosecution Function https://www.americanbar.org/groups/criminal_justice/standards/ProsecutionFunctionFourthEdition/