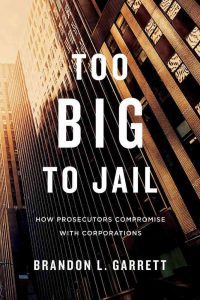 Professor Brandon Garrett of the University of Virginia School of Law discussed his book Too Big to Jail. Professor Garrett's book considers the complex, compromised word of backroom deals, for an unprecedented look at what happens when criminal charges are brought against a major company in the United States.
This was a private event open to UCLA Law faculty, alumni, students and invited guests.
UCLA School of Law is a State Bar of California approved MCLE provider. This activity qualified for one hour of general MCLE credit.
MCLE Materials
The New York Review of Books: Too Big to Jail Review
The Corporate Criminal as Scapegoat Paper
Additional Papers by Brandon Garrett