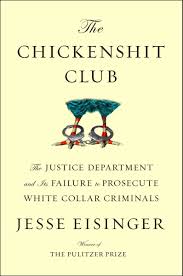 Pulitzer Prize–winning journalist Jesse Eisinger will discuss his new book, "The Chickenshit Club: The Justice Department and the Failure to Prosecute White Collar Criminals," a blistering account of corporate greed and impunity, and the reckless, often anemic response from the Department of Justice.
Richard Marmaro, head of Skadden's West Coast SEC Enforcement and White Collar Practice, will join Jesse to discuss financial crimes and executive liability.
This event is sponsored by Lowell Milken Institute for Business Law and Policy and UCLA School of Law. It is a private event, open to UCLA faculty, alumni, students and invited guests. For questions, please email lowellmilkeninstitute@law.ucla.edu.
UCLA School of Law is a State Bar of California approved MCLE provider. This activity qualifies for one hour of general MCLE credit.
Please RSVP.
CLE Materials: 
Hemming "Why It Is Getting Harder to Prosecute Executives for Corporate Misconduct"     
Buell, "The Responsibility Gap in Corporate Crime"
M. Peregrine, R. Martin & J. Buchman, The Governance Implication of a Proposed Yates "Soft Repeal"