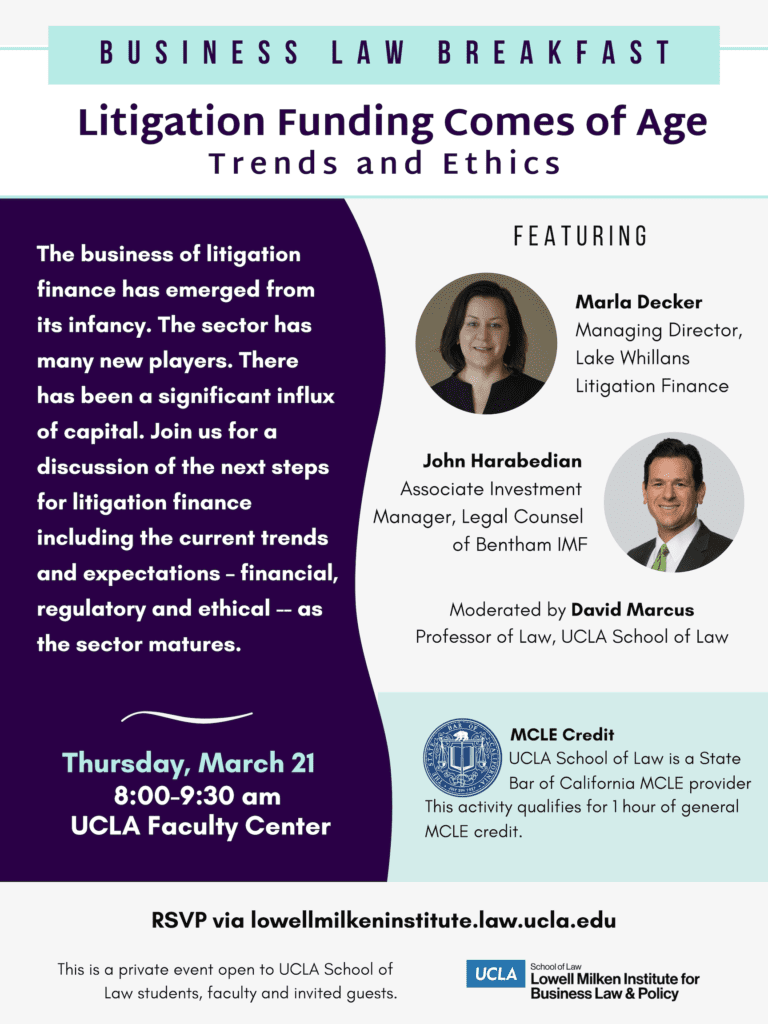 The business of litigation finance has emerged from its infancy. The sector has many new players. There has been a significant influx of capital. Litigation appears to be a new asset class. Join us for a discussion of the next steps for litigation finance including the current trends and expectations – financial, regulatory and ethical -- as the section matures.
Featuring:
Marla Decker, Managing Director, Lake Whillans Litigation Finance
John Harabedian, Associate Investment Manager, Legal Counsel of Bentham IMF
Moderated by David Marcus, Professor of Law, UCLA School of Law
This event is sponsored by UCLA School of Law and Lowell Milken Institute for Business Law and Policy. It is open to UCLA School of Law student, faculty and invited guests. For questions, please email lowellmilkeninstitute@law.ucla.edu.
UCLA School of Law is a State Bar of California MCLE provider. This activity qualifies for 1 hour of general MCLE credit.
MCLE Material
American Bar Association Commission on Ethics 20/20, Informational Report to the House of Delegates
Bentham IMF, "Key Issues in Litigation Finance"
Lake Whillans, "Discovery in the Courts"
Lake Whillans, "Ethics Primer"
MLC Intellectual Property v. Micron Technology
Standing Order for All Judges of the Northern District of California