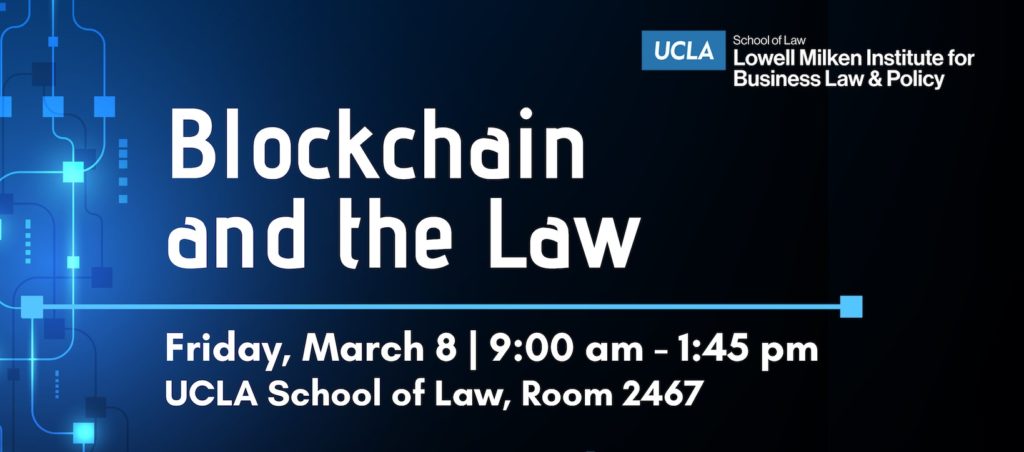 Blockchain was first developed to create a currency that does not rely upon governments or financial institutions. As it has expanded to smart contracts and other applications, the law has struggled to regulate this disruptive technology. Traditional regulatory schemes such as banking, commercial, commodities, securities, and tax law are all in flux with respect to what they require of blockchain applications. The Lowell Milken Institute for Business Law and Policy will host a workshop with leading law professors and practitioners who will discuss the state of the major legal and regulatory issues concerning blockchain technology.
UCLA School of Law is a State Bar of California MCLE provider. This activity qualifies for four hours of general MCLE credit.
This event is sponsored by Lowell Milken Institute for Business Law and Policy and UCLA School of Law. It is a private event, open to invited guests only. For questions, please email estrada@law.ucla.edu.
Schedule
8:30 am to 9:00 am
Breakfast and Registration
9:00 am to 9:45 am
Aaron Wright, Benjamin R. Cardozo School of Law, Yeshiva University
9:45 am to 10:00 am
Break
10:00 am to 10:45 am
"Initial Coin Offerings: Financing Growth with Cryptocurrency Token Sales" - David Yermack, Leonard L. Stern School of Business, New York University
10:45 am to 11:00 am
Break
11:00 am to 12:00 pm
Panel with Marvin Ammori, Protocol Labs, and Jules Miller, IBM Blockchain Accelerator
12:00 pm to 12:15 pm
Break to pick up lunch
12:15 pm to 1:00 pm
Sarah Jane Hughes, Maurer School of Law, Indiana University
1:00 pm to 1:45 pm
"Coin-Operated Capitalism" - David Hoffman, University of Pennsylvania Law School