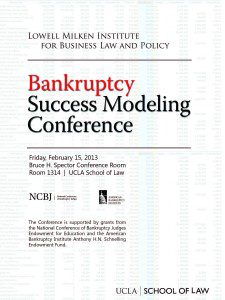 UCLA-LoPucki Bankruptcy Research Database (BRD)
The Bankruptcy Success Modeling Conference brought together eighteen leading bankruptcy scholars at the UCLA School of Law in February 2013. Their purpose was to begin developing empirical answers to the most important policy question in the field: What causes reorganizations to succeed or fail? The project models success as a function of general economic conditions, the bankrupt firm's financial condition, and the bankruptcy procedures employed. Data collection for this project was in progress for more than two years. The project's objective was a set of statistical models that can identify, predict, and explain success, and evaluate bankruptcy procedures. Determining the meaning of "success" was thus part of the problem to be solved.
The Conference was supported by grants from National Conference of Bankruptcy Judges Endowment for Education and the Anthony H.N. Schnelling ABI Endowment Fund.
The Conference's purposes were to encourage and focus bankruptcy success modeling, share preliminary results, and determine the direction of future data collection and analysis.
Conference Participants:
Douglas G. Baird
University of Chicago Law School
Daniel J. Bussel
UCLA School of Law
Andrew B. Dawson
University of Miami School of Law
Joseph W. Doherty
UCLA School of Law
Theodore Eisenberg
Cornell University Law School
Pamela Foohey
University of Illinois College of Law
Michelle M. Harner
University of Maryland Francis King Carey School of Law
Richard M. Hynes
University of Virginia School of Law
Dalié Jiménez
University of Connecticut School of Law
Kenneth N. Klee
UCLA School of Law
Robert M. Lawless
University of Illinois College of Law
Jonathan C. Lipson
Temple University Beasley School of Law
Lynn M. LoPucki
UCLA School of Law
Edward R. Morrison
University of Chicago Law School
Chrystin Ondersma
Rutgers School of Law
David A. Skeel
University of Pennsylvania Law School