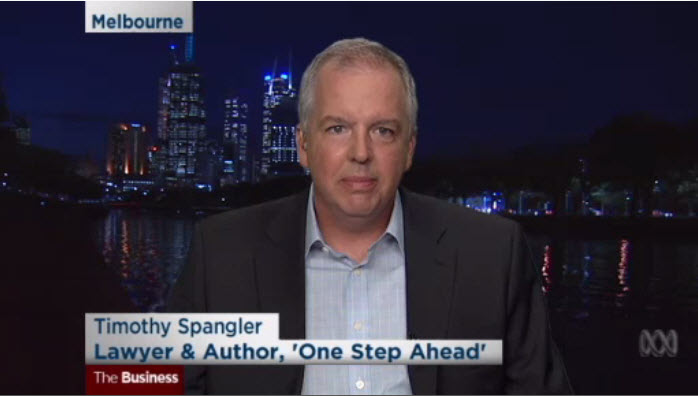 Tuesday, June 13, 2017
Professor Steven Bank was interviewed by the Los Angeles Business Journal regarding L.A.'s top-paid executives in public companies who received an increase in pay last year amid stock market gains.
Friday, June 2, 2017
In Memoriam: William D. Warren, Dean Emeritus of UCLA School of Law
Thursday, May 18, 2017
Professor Steven Bank spoke to NPR's Marketplace about the history of the standard tax deduction and how Trump's tax plan proposes to increase it tremendously in comparison. "Every lawyer, doctor, dentist, accountant was involved in some type of tax shelter — movie tax shelters, alpacas, you name it," said Bank. "And that was not something the average person could participate in."
Tuesday, May 16, 2017
Professor Kirk Stark talked with Marketplace about controversy surrounding the Quill Corp v. North Dakota (1992) case, which indicates that companies only have to collect sales tax if they have a physical location in the state – a ruling that does not take online markets into consideration. Stark said that "many states have passed laws recently clearly in conflict with Quill."
Monday, May 15, 2017
Professor Eric Zolt was mentioned in a PBS Q&A on efficient tax systems between PBS Newshour's Paul Solman and tax expert and journalist, T.R. Reid.
Tuesday, May 2, 2017
The startup team who won the Lowell Milken Institute Sandler Prize for New Entrepreneurs was featured in the Daily Bruin.
Tuesday, March 28, 2017
Professor Steven Bank was interviewed by one of Brazil's leading news outlets, Estado De Minas, about the prospects for U.S. tax reform legislation under Trump, and what such tax reform might look like.
Saturday, March 25, 2017
The Education Commission of the States has announced Lowell Milken as this years's James Bryant Conant Award recipient, one of education's most prestigious honors. In receiving the James Bryant Conant Award, Lowell Milken joins the ranks of education greats such as Sal Kahn (2016), Linda Darling-Hammond (2010), Thurgood Marshall (2004) and Marian Wright-Edelman (1987).
Tuesday, March 21, 2017
Lynn LoPucki, Security Pacific Bank Distinguished Professor of Law, commented in TheStreet.com on the Trump administration's aim to raise fees on corporate bankruptcies in a manner that would affect the biggest-ticket filings.
Friday, March 17, 2017
Professor Steven Bank was quoted in the Los Angeles Times on how shareholders want Wells Fargo to provide a broader accounting of what led to widespread fraud in the bank's sales practices.
Friday, March 17, 2017
Professor Steven Bank was quoted in the New York Post on how President Trump's tax plan favors the private equity industry.
February 27, 2017
UCLA Law's two LawMeet Teams each took first place in their regional competition at the 2017 Transactional LawMeet on Friday, February 24. Each team will advance to the final round to be held in New York at the offices of Sullivan & Cromwell LLP in late March.  In each of the seven regional competitions, 12 teams competed, and two were selected for the finals.
February 21, 2017
Senior Fellow in Residence, James D.C. Barrall, published an opinion piece in Agenda about the SEC opening a 45-day comment period to allow companies to comment on the challenges they are facing in complying with the SEC's CEO pay ratio disclosure rule.
February 17, 2017
Professor Stephen Bainbridge was cited in The Independent on the history and qualifications of President Donald Trump's new Labor Secretary Nominee, Alexander Acosta.
February 9, 2017
Professor Steven Bank was quoted in the Los Angeles Times on the resignation of board member Chad Brownstein from embattled Banc of California.
January 24, 2017
Professor Steven Bank's book (From Sword to Shield:  The Transformation of the Corporate Income Tax, 1861 to Present (Oxford Univ. Press, 2010)) was quoted in an article in Tax Notes about the parallels between the House Plan to replace the corporate income tax with a destination-based corporate tax and President Roosevelt's attempt to replace the corporate income tax with an undistributed profits tax in 1936.
January 11, 2017
Professor Steven Bank was featured in a Corner of the Galaxy podcast that discussed rumors and possibilities for new LA Galaxy players from around the world.
November 28, 2016
Professor Eric Zolt has been appointed to a four-year term to the Eminent Expert Group of Tax Policy and Public Expenditure Management for Sustainable Development, United Nations Economic and Social Commission for Asia and the Pacific.  The first meeting of the group will be on December 6 and 7 in Bangkok.