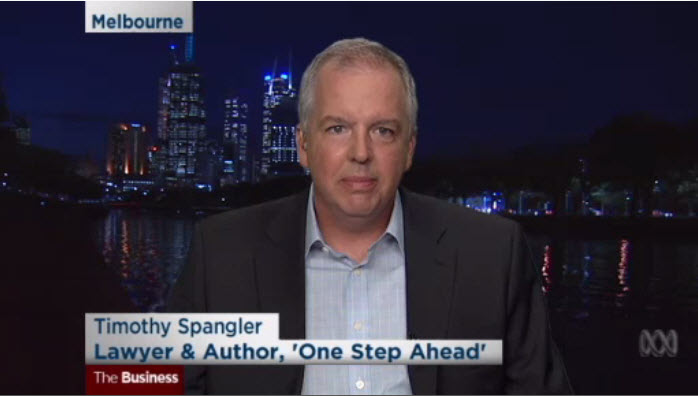 Thursday, October 12, 2017
Professor Steven Bank was quoted in a Crain's New York Business article about a North American Soccer League lawsuit against the U.S. Soccer Federation. According to Bank, the NASL faces a formidable challenge in court.
Wednesday, October 4, 2017
Professor Jason Oh talked to Bloomberg BNA for a discussion about the various decisions lawmakers may face in order to pay for tax rate cuts, which will have to be offset by revenue raisers. "Few decisions are binary," said Oh. "There are a spectrum of decisions they can make on many provisions."
Wednesday, October 4, 2017
Professor Steven Bank commented in Law 360 on an antitrust lawsuit brought by the North American Soccer League against the U.S. Soccer Federation, for applying a shifting set of standards meant to favor Major League Soccer, the nation's premiere league. Bank said the NASL has an uphill battle to prove its antitrust claims.
Friday, September 29, 2017
Professor Eric Zolt was interviewed by Capitol Public Radio for an article on the GOP's tax overhaul proposal, which calls for eliminating most itemized deductions — including possibly a deduction for state and local income taxes.
Thursday, September 28, 2017
Professor Steven Bank was interviewed by Howler Magazine in a podcast discussion of the North American Soccer League's anti-trust lawsuit against the U.S. Soccer Federation, which recently demoted the NASL from division two to division three. The NASL is suing the USSF not only over this designation but over the governing body's right to designate pro leagues at all.
Bank was also interviewed on the same topic by Inverted Triangle in a podcast on WRAL Sports Radio in Raleigh/Durham, North Carolina.
Thursday, September 28, 2017
Professor Jason Oh was interviewed by KPCC for a discussion of the GOP's tax code overhaul, and how it will affect California homeowners. Under the proposal, California homeowners will likely pay higher taxes than they do now, said Oh. "But just barely. It's a tough decision."
Monday, September 18, 2017
Professor Kirk Stark was interviewed by Bloomberg Law in a podcast discussion of a recent South Dakota State Supreme Court ruling which found that companies selling goods over the internet cannot be forced to collect the state's 4.5 percent tax on purchases.
Tuesday, September 12, 2017
Paul Habibi, a lecturer at UCLA Law and the UCLA Anderson School of Management, was featured in Business Wire and multiple other news outlets for his release of Housing Pays: Capturing the Economic and Fiscal Benefits of Increased Housing Production in L.A. Habibi's report calculates that Los Angeles is risking a $583 million net benefit, generated through new housing taxes, if Mayor Eric Garcetti doesn't meet a 2021 goal to build 100,000 new units.
Thursday, August 31, 2017
Professor Steven Bank spoke with Fox Business, addressing how the Republican tax plan poses a risk to the U.S. bond market. As White House officials and top House Republicans plan to scale back tax deductions on corporate interest, risking more borrowing overseas, the competitive advantage of the mammoth U.S. bond market will erode—according to experts. Bank explained the history of the corporate tax deduction for interest, which was known as a "capped" deduction in the early years.
Tuesday, August 29, 2017
Jim Barrall, senior fellow at the Lowell Milken Institute for Business Law and Policy, published a Financial Times Agenda opinion piece noting that boards should be making certain their companies are preparing to disclose the ratios of their CEOs' pay to that of their median compensated employees in their 2018 proxies.
Friday, August 11, 2017
Russell Korobkin, Vice Dean for Academic and Institutional Affairs and Richard C. Maxwell Professor of Law, authored a Los Angeles Times op-ed on President Trump's erratic but potentially successful approach to the threat of hostilities with North Korea.
Tuesday, July 18, 2017
A member of the UCLA School of Law Class of 2017 has won a prestigious national student writing competition in tax law. Shelby Miner '17 took top honors in Tax Analysts' 2017 Student Writing Competition for her paper "The Use Tax Problem: Practicality or Propriety?" There, she proposes "a new method of determining whether a state has the authority to tax a company that has no physical presence within that state yet takes advantage of the state's market to sell its goods." In recognition of the award, Miner's paper was published in State Tax Notes.
The Tax Analysts competition is open to law, business and public policy students and accepts papers on unsettled questions in international, federal or state tax law and policy. Winning entries are selected based on "originality, readability, organization, reasoning, and overall quality of content," according to the competition guidelines. Miner's paper was supervised by Eric M. Zolt, UCLA Law's Michael H. Schill Distinguished Professor of Law.
During her tenure at UCLA Law, Miner took tax law classes and graduated with a certification in business law. She was also UCLA Law's moot court president and received the Order of Barristers at graduation in May. Miner is a former competitive gymnast who majored in underwater archaeology as an undergraduate at the University of Minnesota and did field work excavating Roman shipwrecks in the Mediterranean Sea. She will begin her legal career as an attorney in the Army JAG Corps.
Monday, July 10, 2017
Jim Barrall, senior fellow at the Lowell Milken Institute for Business Law and Policy, commented in the Washington Post on a controversial ruling involving employee pay gaps.
Tuesday, June 13, 2017
Professor Steven Bank was interviewed by the Los Angeles Business Journal regarding L.A.'s top-paid executives in public companies who received an increase in pay last year amid stock market gains.
Friday, June 2, 2017
In Memoriam: William D. Warren, Dean Emeritus of UCLA School of Law
Thursday, May 18, 2017
Professor Steven Bank spoke to NPR's Marketplace about the history of the standard tax deduction and how Trump's tax plan proposes to increase it tremendously in comparison. "Every lawyer, doctor, dentist, accountant was involved in some type of tax shelter — movie tax shelters, alpacas, you name it," said Bank. "And that was not something the average person could participate in."
Tuesday, May 16, 2017
Professor Kirk Stark talked with Marketplace about controversy surrounding the Quill Corp v. North Dakota (1992) case, which indicates that companies only have to collect sales tax if they have a physical location in the state – a ruling that does not take online markets into consideration. Stark said that "many states have passed laws recently clearly in conflict with Quill."
Monday, May 15, 2017
Professor Eric Zolt was mentioned in a PBS Q&A on efficient tax systems between PBS Newshour's Paul Solman and tax expert and journalist, T.R. Reid.
Tuesday, May 2, 2017
The startup team who won the Lowell Milken Institute Sandler Prize for New Entrepreneurs was featured in the Daily Bruin.
Tuesday, March 28, 2017
Professor Steven Bank was interviewed by one of Brazil's leading news outlets, Estado De Minas, about the prospects for U.S. tax reform legislation under Trump, and what such tax reform might look like.
Saturday, March 25, 2017
The Education Commission of the States has announced Lowell Milken as this years's James Bryant Conant Award recipient, one of education's most prestigious honors. In receiving the James Bryant Conant Award, Lowell Milken joins the ranks of education greats such as Sal Kahn (2016), Linda Darling-Hammond (2010), Thurgood Marshall (2004) and Marian Wright-Edelman (1987).
Tuesday, March 21, 2017
Lynn LoPucki, Security Pacific Bank Distinguished Professor of Law, commented in TheStreet.com on the Trump administration's aim to raise fees on corporate bankruptcies in a manner that would affect the biggest-ticket filings.
Friday, March 17, 2017
Professor Steven Bank was quoted in the Los Angeles Times on how shareholders want Wells Fargo to provide a broader accounting of what led to widespread fraud in the bank's sales practices.
Friday, March 17, 2017
Professor Steven Bank was quoted in the New York Post on how President Trump's tax plan favors the private equity industry.
February 27, 2017
UCLA Law's two LawMeet Teams each took first place in their regional competition at the 2017 Transactional LawMeet on Friday, February 24. Each team will advance to the final round to be held in New York at the offices of Sullivan & Cromwell LLP in late March.  In each of the seven regional competitions, 12 teams competed, and two were selected for the finals.
February 21, 2017
Senior Fellow in Residence, James D.C. Barrall, published an opinion piece in Agenda about the SEC opening a 45-day comment period to allow companies to comment on the challenges they are facing in complying with the SEC's CEO pay ratio disclosure rule.
February 17, 2017
Professor Stephen Bainbridge was cited in The Independent on the history and qualifications of President Donald Trump's new Labor Secretary Nominee, Alexander Acosta.
February 9, 2017
Professor Steven Bank was quoted in the Los Angeles Times on the resignation of board member Chad Brownstein from embattled Banc of California.