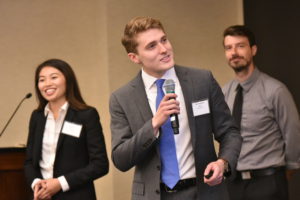 Lowell Milken Institute-Sandler Prize for New Entrepreneurs is a team entrepreneurship competition with $100,000 in prizes. The competition encourages UCLA student innovation and leadership and supports the real-world launch of promising new business ventures.
This year eighteen teams of UCLA students participated in the competition. Teams included UCLA undergraduates and students from the graduate schools, UCLA Anderson School of Management, the Henry Samueli School of Engineering and Applied Science, and UCLA School of Law.
Each of the six finalist teams presented a live pitch to a panel of expert judges and a large audience of UCLA supporters on April 11. Team Mote won the $70,000 first-place prize for its innovative product that captures CO2 and converts it to recyclable ethylene from fleet vehicles such as buses. Team Mote is led by Patrick ("Mac") Kennedy (Law '18) and Mary Vu (Law '18).
Team BellaNové was awarded the $30,000 second-place prize for its new venture – renting fashionable work clothes to expectant mothers. Team BellaNové is the brainchild of Jenny Leung (Business '19) with the team of Alysia Anderson (Law '18), Grace Bowden (Law '18), Alexandra Guthy (Law '18), and Roxana Soroudi (Law '18). An audience favorite award went to Team Vanth, an online marketplace that matches seamstresses with clothes buyers to provide custom fit clothes at a reasonable price and wage. Team Vanth is spearheaded by Kimberly Phan (Law '18) and supported by the team of Taylor Cramm (Business '18), Katie Farias (Business '18), Ashley Miao ( Linguistics and Computer Science '20), Jung H. Shin (Business '19), and Amy Zhao (Computer Science '21).
The Final Round was judged by:
– Joshua D. Geffon (Law '04), Shareholder, Stradling Yocca Carlson & Rauth, P.C.
– Eva Ho, General Partner, FIKA Ventures
– Brian Liu (Law '96), Co-founder and Chairman, LegalZoom
– Richard Sandler (Law '73), EVP Milken Family Foundation; Partner, Maron & Sandler
– Michael Silton, Managing Director, Act One Ventures, Chair Emeritus, UCLA Venture Fund
The Stradling Yocca firm sponsored the Final Round which was held at the Luskin Conference Center at UCLA.
The Lowell Milken Institute provided each team with an experienced entrepreneur, investor or startup lawyer as a team mentor. Principals of Cayenne Consulting, a leading consulting firm for startups, made a presentation to teams on how to develop and produce a persuasive business plan. The Gunderson Dettmer law firm instructed the law students on the teams on working with and counseling a new business. In addition, students were encouraged to take advantage of the many outstanding resources supporting entrepreneurship on the UCLA campus including StartUp UCLA and Blackstone Launchpad, among others.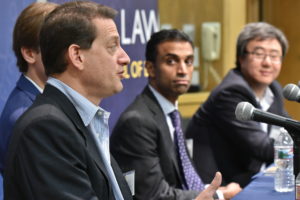 Located in UCLA's back yard, the Silicon Beach economy is exploding.  This spring the Lowell Milken Institute launched the Law and Entrepreneurship in Silicon Beach conference which explored the legal and policy issues faced by more than 500 tech startups, incubators, accelerators and public companies in the new Silicon Beach economy.
The Silicon Beach Conference addressed three important areas all with a focus on the businesses we see in the area:  governance, financing and acquisitions.
The  Silicon Beach Acquisitions: Legal and Business Issues panel featured David Hernand, Paul Hastings; Brandon Quartararo, Intrepid Investment Bank; Andrew Erskine, Orrick and was moderated by Iman Anabtawi, UCLA School of Law.
The Corporate Governance and Founder Control panel examined the various structural approaches, including dual class stock structures currently in use.  The panel featured Ken Bertsch, Council of Institutional Investors; David Berger, Wilson Sonsini Goodrich & Rosati; Caroline Cherkassky, Stubbs Alderton & Markiles; Chris Shoff, Latham & Watkins and was moderated by Stephen Bainbridge, UCLA School of Law.
The Financing of Start-Ups and Emerging Growth Companies panel explored the SEC's pro-IPO initiatives as well as the emerging Initial Coin Offering debate and featured Lona Nallengara, Shearman & Sterling; Nick Hobson, Cooley; Philippa Bond, Proskauer; Adam Ettinger, Sheppard, Mullin, Richter & Hampton and was moderated by James Park, UCLA School of Law.
The capstone of the morning was an interview with serial entrepreneur and UCLA Law alum, Brian Lee conducted by UCLA Law Dean Jennifer Mnookin.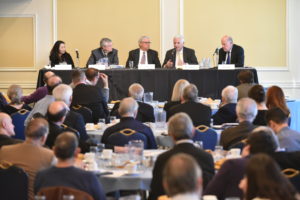 The Business Law Breakfast series brings thoughtful conversations on topics of importance to the business and law communities. The series attracts Los Angeles business lawyers and executives and provides an excellent opportunity for students to hone their networking skills as well as to gain insight into issues faced by practicing attorneys. This semester we hosted two outstanding Business Law Breakfasts.
The January 26 Business Law Breakfast, Wells Fargo: Observations on a Scandal, offered an in-depth look at the issues that led to the Wells Fargo debacle.
The expert panel for Wells Fargo consisted of UCLA Law Professor Sung Hui Kim, Harvard Law Professor Howell Jackson, USC Business Professor Ken Merchant and Michael Halloran, former general counsel of Bank of America.  The panelist brought practical information and experience to the problems facing Wells Fargo and the structural and cultural norms that gave rise to the scandal in the first place.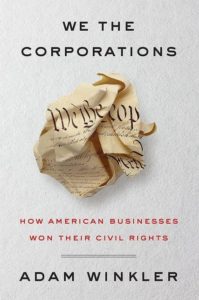 At the February 20 Business Law Breakfast, UCLA Law Professor Adam Winkler discussed his new book, We the Corporations: How American Businesses Won Their Civil Rights. 
Professor Winkler's book examines the historical roots of Citizens United v. FEC, and demonstrates how that controversial 2010 Supreme Court decision was the capstone of a 200-year battle over corporate personhood and constitutional protections for business. Professor Winkler's book has been critically acclaimed by the New York Times.
Keep an eye out for the fall when our next Business Law Breakfast will look at how blockchain technology is changing the legal landscape.
Each year the Lowell Milken Institute sponsors teams of UCLA Law students to compete in business law competitions to hone their business law skills.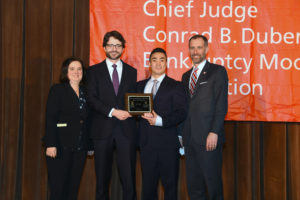 Duberstein Bankruptcy Moot Court Competition
UCLA Law students Kevin Liang (Law '18) and Stefan Love (Law '19) advanced to the semi-finals round (the "Sweet Sixteen") of the Duberstein Moot Court Competition and won the award for Best Brief. Stefan also was one of four runners up for Best Oral Advocate.
The Duberstein competition is recognized as one of the preeminent moot court competitions and the nation's largest single moot court competition with 58 law school teams competing this year.  Congratulations to Kevin and Stefan on a successful competition.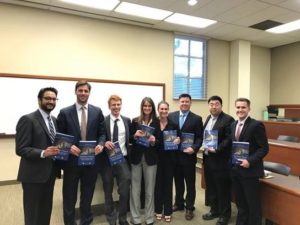 Pircher, Nichols & Meeks Joint Venture Challenge
The Pircher, Nichols & Meeks Joint Venture Challenge gives students interested in real estate law an opportunity to learn about complex real estate transactions. Congratulations to the 2018 winners, Annie Dewberry (Law '20) and Vanessa King (Law '20).
The Pircher, Nichols & Meeks Joint Venture Challenge brings together student teams from UCLA School of Law and UCLA Anderson School of Management. The Challenge is co-sponsored by the UCLA Ziman Center for Real Estate and the Lowell Milken Institute. Special thanks to the law firm of Pircher Nichols & Meeks for its leadership in designing and sponsoring the competition.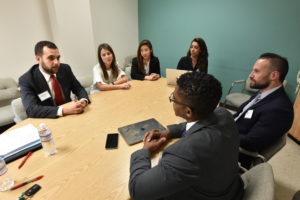 UCLA Transactional Competitions
All students interested in a transactional practice were able to compete in the UCLA Intramural Transactional Competition from which six were selected to compete against other schools in the Transactional LawMeet.
UCLA sent two teams to the Transactional LawMeet this year. Nicholas Baltaxe (2L), Brett Richter (2L), and Rachel Samec (2L) participated in the regional meet held at Georgetown University. Adam Dondoyano (3L), Adam Marx (2L) and Arian Zadeh (3L) competed in the meet held at the University of Texas at Austin.
The Transactional LawMeet teams were coached by UCLA Law alumni and former participants in the National Transactional LawMeet Jeffrey Brandt (Law '16), Tim Najera (Law/M.B.A. '13), Payom Pirahesh (Law '11); Kate Sheets (Law '10) and Scott Timpe (Law '11). Tim, Scott and Payom formed UCLA Law's inaugural Transactional LawMeet team in 2011 that advanced to the national finals. Jeffery was a member of the 2016 National Championship team with Matthew Weber (Law '16) and Christine Ristow (Law '17).
Both the UCLA Intramural Transactional Competition and the Transactional LawMeet allow students to participate in a simulated real-world transaction where they gain drafting and negotiating experience. In preparation for the meet, students participate in client interviews, draft relevant provisions and then mark-up opposing provisions. After submitting an initial draft as well as comments on another team's draft, the teams participate in two rounds of in-person negotiations. The drafts, mark-ups and negotiations are then judged by practicing attorneys.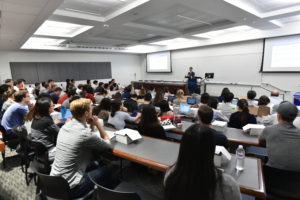 Each semester, the Lowell Milken Institute sponsors several Lunch and Learn programs in which experienced practitioners explain the "How To" of a business law practice. Lunch and Learn programs embrace the wide spectrum of business law including corporate governance, non-profits, business litigation and M&A transactions.
This semester the Lowell Milken Institute sponsored two Lunch and Learn events:
"What is a Hedge Fund?" featured UCLA Law alumni Scott Klein and his colleague Gary Hobart of Beach Point Capital Management. Scott and Gary introduced students to the structuring, management and investing of hedge funds.
Latham & Watkin lawyers Michelle Carpenter and Drew Capurro discussed IPOs and introduced students to the players, their roles, and the major issues that arise.
UCLA School of Law possesses one of the most dynamic and productive business law faculties in the country. A recent sampling of their scholarly work includes: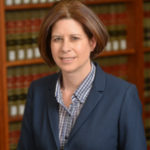 UCLA Law Professor Iman Anabtawi's article Predatory Management Buyouts explains the special issues that face the board when management, partnering with a financing source such as a private equity firm, seeks to buy out the public shareholders.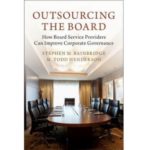 Stephen Bainbridge, the William D. Warren Distinguished Professor of Law at UCLA School of Law, explores the question of why corporate boards of directors regularly fail to govern effectively and provide a revolutionary response in his new book, Outsourcing the Board: How Board Service Providers Can Improve Corporate Governance. In Outsourcing the Board, Professor Bainbridge and his co-author Todd Henderson propose that corporations employ expert organizations known as Board Service Providers to provide corporate governance services rather than the collection of individuals with limited expertise and resources who typically serve as directors.  Professor Bainbridge explores these ideas further in his recent article, Corporate Directors in the United Kingdom. In the United States, state corporation law uniformly provides that only natural persons may serve as directors of corporations. By contrast, the United Kingdom allowed legal entities to serve as directors of a company. In 2015, however, Parliament enacted legislation adopting a general prohibition of these so-called corporate directors, albeit while contemplating some exemptions. Professor Bainbridge argues that there are legitimate reasons companies may wish to appoint corporate – rather than individual — directors.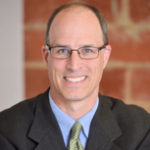 Steven A. Bank, the Paul Hastings Professor of Business Law at UCLA School of Law, explores the question of why the American public changed its views about tax avoidance which was once considered unpatriotic and is now considered an acceptable and even expected strategy on the part of individuals and entities. His article When Did Tax Avoidance Become Respectable? investigates possible reasons for the shift in U.S. public opinion about tax avoidance strategies.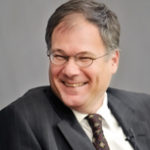 UCLA Law Professor Daniel J. Bussel's Doing Equity in Bankruptcy addresses equitable remedies' tendency to impair fundamental bankruptcy policies favoring equal treatment of creditors, debtor fresh start and reorganization.
Professor Lynn M. LoPucki, the Security Pacific Bank Distinguished Professor of Law at UCLA School of Law, in his article, Algorithmic Entities, has identified a possible doomsday scenario as a result of corporate law's failure to stay ahead of technological changes. In a separate article, A Rule Based Method for Comparing Corporate Laws, Professor LoPucki proposes a solution to the notorious difficult problem of comparing corporate laws between states and nations.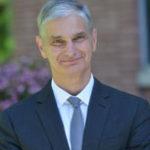 Eric M. Zolt, the Michael H. Schill Distinguished Professor of Law at UCLA School of Law, and UCLA Law Professor Jason Oh consider alternatives to a comprehensive wealth tax proposed by policymakers interested in addressing income and wealth inequalities. In their paper, Wealth Tax Add-Ons: An Alternative to Comprehensive Wealth Taxes, Professors Zolt and Oh propose alternative set of instruments that countries can employ and avoid some of the disadvantages of a comprehensive wealth tax.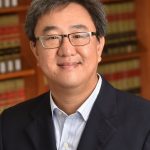 James Park, Faculty Director, Lowell Milken Institute for Business Law and Policy, UCLA Professor of Law, has issued a report on Law Firms in Los Angeles After the Financial Crisis which studies large law firms from 2007 to 2017.
Sign up for the Lowell Milken Institute for Business Law and Policy mailing list to receive information on our upcoming events.