Business Law Breakfasts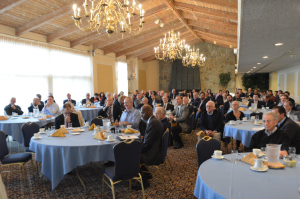 The Lowell Milken Institute provides a forum for the exploration of important current business law issues. We bring together legal practitioners, business advisors, business executives, federal and state regulators and academics for in-depth discussions with the goal of developing policies and resolutions that make a difference in the business law community. This spring, the Lowell Milken Institute hosted three Business Law Breakfasts.
Victor Fleischer, Co-Chief Tax Counsel on the Senate Finance Committee addressed Tax Reform: The State of Play. Mr. Fleischer provided an overview of the tax reform efforts in both the United States House of Representatives and the Senate.
The discussion on tax reform included an overview of the House Republican's blueprint for tax reform and a discussion on the implications and potential alternative proposals. Victor Fleischer is a regular contributor to the New York Times on tax policy issues. His paper Two and Twenty: Taxing Partnership Profits in Private Equity Funds moved the discussion of carried interest for private fund managers from the halls of academic to a populist cause.
Brandon L. Garrett, the Justice Thurgood Marshall Distinguished Professor of Law at the University of Virginia School of Law, discussed his recent publication Too Big to Jail with commentary provided by Stephanie Yonekura, former Acting U.S. Attorney in Los Angeles.
Professor Garrett's book Too Big to Jail takes readers into the complex, compromised world of backroom deals, for an unprecedented look at what happens when criminal charges are brought against a major company in the United States.
Presenting detailed data from more than a decade of federal cases, Brandon Garrett reveals a pattern of negotiation and settlement in which prosecutors demand admissions of wrongdoing, impose penalties, and require structural reforms. However, those reforms are usually vaguely defined. Many companies pay no criminal fine, and even the biggest blockbuster payments are often greatly reduced. Too Big to Jail describes concrete ways to improve corporate law enforcement by insisting on more stringent prosecution agreements, ongoing judicial review, and greater transparency.
Stephanie Yonekura is a partner in the Los Angeles Office of Hogan Lovells and former Acting U.S. Attorney in Los Angeles. Ms. Yonekura worked with the FBI, SEC, IRS, CFTC, and various inspectors general as a prosecutor for more than 14 years and now in private practice, on issues including financial institution fraud, government fraud, securities fraud, and cybercrime.
This spring, the Lowell Milken Institute partnered with the Southern California Chapter of the National Association of Corporate Directors to present a conversation with Myron T. Steele, the former Chief Justice of the Delaware Supreme Court on New Issues for Corporate Governance under Delaware Law. Chief Justice Steele was joined by Arnie Pinkston, Director of Janus Capital Group, and the discussion was moderated by Stephen M. Bainbridge, the William D. Warren Distinguished Professor of Law, UCLA School of Law.
A central concern of the law with respect to the familiar corporate form of entity is used to regulate the relationship between corporate owners (shareholders) and corporate managers. As the leading jurisdiction in corporate law, Delaware courts have determined many of the standards for corporate governance and the roles of corporate directors and managers. Over the past decade, alternatives to the familiar corporate form have gained importance in the business landscape including limited liability companies (LLCs), publicly-traded master limited partnerships (MLPs), limited liability partnerships (LLPs) and limited partnerships (LPs). In particular LLCs have become a popular alternative for start-ups as well as certain investment vehicles such as private funds. These alternative entity forms use "freedom of contract" as a touchstone for determining the relationship between owners and managers. Against the background of the corporate governance principals that apply to corporations, our speakers explored some of the governance issues that arise in the alternative entities include the existence and scope of fiduciary duties, the effect of the implied covenant of good faith and fair dealing, and the agency costs associated with inadequate governance controls on management.
2017 Lowell Milken Institute-Sandler Prize Winners Selected!
On Wednesday, April 19, 2017, six UCLA teams competed in the Final Round for the Lowell Milken Institute-Sandler Prize for New Entrepreneurs. Two prizes were awarded by the blue-ribbon panel of judges: a first place prize of $70,000 and a second place prize of $30,000. The prize money must be used for the ventures created by each of the winning teams.
Mechanodontics won the $70,000 first place prize and YT AG. won the $30,000 second place prize. This year, the Lowell Milken Institute also sponsored an Audience Favorite Award, in which audience members were able to vote for the team they thought had the most compelling plan. Team Good Luck Gaming won the Audience Favorite Award, and the team members will receive $1,000 to be split among them.
Mechanodontics has developed a new and revolutionary type of dental braces system for orthodontic treatment. Its braces are designed to be the most hygienic and aesthetic option, while reducing overall treatment time by half and cutting the number of visits to the clinician by 75%. The Mechanodontics braces system also reduces the overall pain and discomfort of traditional braces.
The Mechanodontics team consists of Mehdi Roein-Peikar, a resident in the UCLA Dentistry School; Angela Li, (J.D. '17); and Jeng-Ya Chen, (J.D. '17).
The runner up, YT AG. was awarded the $30,000 second place prize. YT AG. is developing a system for monitoring the health of bee hives used by the commercial pollination industry. The commercial pollination industry maintains millions of beehives to pollinate food crops. Beehive health is critical for food production. YT AG. has created a monitor for beehives that monitors nine different conditions of the hive that beekeepers can use to treat the hives and prevent diseases and other problems.
The YT AG. team consists of Tim Yingtian Yu, a PhD candidate in environmental/ mechanical engineering at UCLA; Sofia Beltràn, (J.D. '17); and Jared Xu, (J.D. '16).
Good Luck Gaming allows video game fans to win chances to play with or against their favorite video game celebrities through a raffle. The proceeds from the raffle will be allocated to charities, the video game celebrity and the company. Good Luck Gaming's goal is to give video game fans
a richer experience than just watching video games on Twitch.tv.
Good Luck Gaming consists of five UCLA Anderson '17 students, Joseph Lee, Purvi Goyal, Sampo Hynynen, Anish Patel, and Julius Seok; and Peter Hammon, (J.D. '17).
The six teams in the Final Round were selected from twenty teams that submitted business plans for new ventures on March 24, 2017. Six judges read and scored the business plans and the top six teams were selected for the Final Round. During the Final Round of the competition, each team made a 10 minute presentation to the judges and the audience. The teams then responded to questions about their ventures from the judges. The Final Round judges all had significant experience in creating and investing in new ventures.
Joel Feuer, Executive Director of the Lowell Milken Institute for Business Law and Policy, which administers the competition said, "All six finalist teams made excellent presentations. I was privileged to sit with the judges and listen to their deliberations. This was a very difficult decision because all the teams made compelling cases for their ventures."
The Final Round judges were:
Lowell Milken, Chairman and Co-Founder, Milken Family Foundation; UCLA Law '73
Richard Sandler, Executive Vice President, Milken Family Foundation; Partner, Maron & Sandler; UCLA Law '73
Josh Green, Vice President Corporate Development and General Counsel, Carbon3D, Inc.; General Partner, Mohr Davidow Ventures; UCLA Law '80
Michael Silton, Managing Director, Act One Ventures; Chair Emeritus, UCLA Venture Fund
Jules Miller, Partner LunaCap Ventures; Co-Founder & Managing Director, Evolve Law; UCLA '03
Congratulations to the winners and to all the teams that participated in the 2017 Final Round of the Lowell Milken Institute-Sandler Prize Competition.
Lowell Milken Institute Publishes the 2017 Private Fund Report and Hosts Accompanying Conference: Does "Two and Twenty" Have a Future?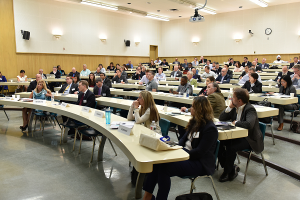 On Thursday, May 18, the Lowell Milken Institute published its 2017 Private Fund Report in conjunction with hosting the fourth annual Private Fund Conference. Under the leadership of Tim Spangler, Director of Research, the 2017 Private Fund Report and Conference tackled the thorny question of whether the "Two and Twenty" compensation structure for private fund managers will persist.
The Conference provided a diverse set of viewpoints on the controversial subject and facilitated a frank and open conversation regarding the justification for the Two and Twenty compensation system as well as exploring changes and new approaches to compensation in the industry. Three panels of professionals in the private fund industry examined fee structures, investor/manager alignment and related issues. Panelists included fund managers, large pension fund investors, academics, fund lawyers and the SEC.
The conference concluded with the keynote address from Jagdeep Bachher, Chief Investment Officer of the UC Regents. Mr. Bachher is responsible for managing the UC Pension, endowment, short-term and total-return investment pools representing a portfolio of more than $100 billion.
UCLA School of Law's Two LawMeet Teams Victorious at National and Regional Competitions
Each year the Lowell Milken Institute sponsors two teams of UCLA Law students to complete in the Transactional LawMeet. This year UCLA Law's two LawMeet Teams each took first place in their regional competition. By winning their regional competition each UCLA Law team then advanced to the National Championship final round held in New York at the offices of Sullivan & Cromwell LLP. Only 14 teams out of an initial 84 teams advanced to the National Finals.
At the National Finals, the team of Kimberley Johnson (J.D. '17), Reema Kapoor (LLM '17), and Christine Ristow (J.D. '17) won Best Draft in the 2017 Transactional LawMeet. They were joined at the National Championship finals by the UCLA Law team of Stephen Bandrowsky (J.D. '17), Adam Dondoyano (J.D. '18), and Tyler Dodge (J.D. '17).
The Transactional LawMeet allows students to participate in a simulated real-world transaction where they gain drafting and negotiating experience. In preparation for the meet, students participated in client conference calls, drafted relevant provisions and then marked-up opposing provisions.
After submitting an initial draft as well as comments on another team's draft, the teams participated in two rounds of in-person negotiations. The drafts, mark-ups and negotiations were then judged by partners from some of the leading law firms in the country, corporate general counsels and other senior practitioners. This year UCLA Law's teams successfully drafted and negotiated key sections of an asset purchase agreement for the sale of a brewing, bottling and wholesale distribution company to an international beverage company.
The success of the UCLA Transactional LawMeet teams is made possible by the dedication and passion of team coaches Professor Michael Woronoff, Tim Najera (J.D./M.B.A. 2013), Payom Pirahesh (J.D. 2011), Scott Timpe (J.D. 2011) and Jeffrey Brandt (J.D. 2016).
UCLA School of Law has a long history of support for and success in the Transactional LawMeet. In 2011, coaches Tim Najera, Payom Pirahesh and Scott Timpe formed the first UCLA competition team and went to the National Finals. In 2016, the UCLA Law team of Jeffrey Brandt, Christine Ristow and Matthew Weber (J.D. 2016) won the National LawMeet.
UCLA School of Law and the Lowell Milken Institute Host Prestigious Symposium on Delaware Corporate Law
On February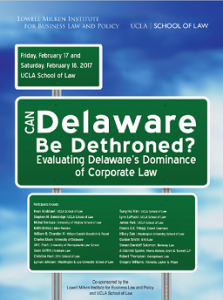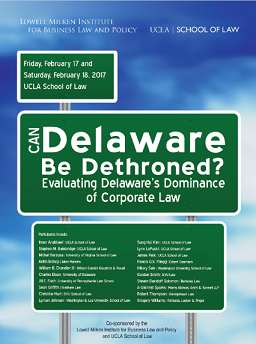 17 and 18, 2017, UCLA School of Law and the Lowell Milken Institute for Business Law and Policy convened a group of distinguished corporate law professors and practitioners from around the country to address how Delaware came to dominate the corporate law world and whether Delaware will sustain that dominance in the future. The symposium, organized by Professor Stephen Bainbridge, brought together a formidable lineup of panelists to explore this important topic.
The papers written for and first presented at the conference will be collected and published by Cambridge University Press as a book entitled: Can Delaware Be Dethroned? Evaluating Delaware's Dominance of Corporate Law.
Since the adoption of Delaware's general incorporation statute in 1899, Delaware has dominated the corporate chartering business. Several panels focused on the historical background giving rise to Delaware's supremacy and the failure of a federal system to come into play as an alternative to the state corporate charter system. Other panels explored the doctrinal reasons that corporations prefer Delaware's corporate law jurisprudence and whether it is beneficial or detrimental for investors. The conference featured UCLA School of Law Professors Iman Anabtawi, Stephen M. Bainbridge, Sung Hui Kim, Lynn LoPucki and James Park as well as other recognized scholars and practitioners: Michal Barzuza, University of Virginia School of Law; Keith Bishop, Allen Matkins; William B. Chandler III, Wilson Sonsini Goodrich and Rosati; Charles Elson, University of Delaware; Jill E. Fisch, University of Pennsylvania Law School; Sean Griffith, Fordham Law; Christine Hurt, BYU School of Law; Lyman Johnson, Washington & Lee University School of Law; Francis G.X. Pileggi, Eckert Seamans; Hillary Sale, Washington University School of Law; Gordon Smith, BYU Law; Steven Davidoff Solomon, Berkeley Law; A. Gilchrist Sparks, Morris Nichols Arsht & Tunnell LLP; Robert Thompson, Georgetown Law; and Gregory Williams, Richards Layton & Finger.
Video Recordings of Day One and Day Two of the conference are available.
UCLA School of Law's Business Law Faculty Scholarship in 2016-17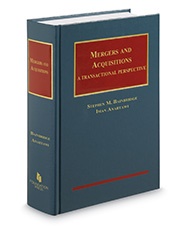 Professors Stephen Bainbridge and Iman Anabtawi new casebook Mergers and Acquisitions: A Transactional Perspective. (More)
Iman Anabtawi
Predatory Management Buyouts, 49 UC Davis Law Review 1285 (2016).
Stephen Bainbridge
Revitalizing SEC Rule 14a-8's Ordinary Business Exemption: Preventing Shareholder Micromanagement by Proposal, 85 Fordham Law Review 705 (2016).
Limited Liability: A Legal and Economic Analysis (with M. Todd Henderson). Edgar Elgar Publishing (2016).
Fee-Shifting: Delaware's Self-Inflicted Wound, 40 Delaware Journal of Corporate Law 851 (2016).
Steven A. Bank
Executive Pay: What Worked? (with Brian R. Cheffins and Harwell Wells), 42 Journal of Corporation Law 59 (2016).
Book Review, Journal of Legal Education (2016). Review of Making the American Fiscal State: Law, Politics, and the Rise of Progressive Taxation, 1877-1929, by Ajay K. Mehrotra.
Paying High for Low Performance (with George S. Georgiev), 100 Minnesota Law Review Headnotes 14 (2016)
Daniel J. Bussel
Ethics for Examiners, 84 Fordham Law Review 2073 (2016)
A Third Way: Examiners as Inquisitors, 90 American Bankruptcy Law Journal 59 (2016).
Bankruptcy (with David Skeel). 10th ed. Foundation Press (2015). With Teacher's Manual.
Sung Hui Kim
Fiduciary Law's Anti-Corruption Norm, in Research Handbook on Fiduciary Law (edited by Andrew S. Gold and Gordon Smith, Edward Elgar Publishing Ltd, 2017).
Professional Responsibility: A Contemporary Approach (with Bruce Green, Peter Joy, Renee Knake, Ellen Murphy, Russell Pearce, Laurel Terry). 3rd ed. West Academic (2017).
Inside Lawyers: Friends or Gatekeepers?, 84 Fordham Law Review 1867 (2016).
Ken Klee
Bankruptcy and the Supreme Court: 1801-2014 (with Whitman L. Holt). West Academic (2015).
Lynn M. LoPucki
Disciplinary Legal Empiricism, 76(2) Maryland Law Review 449 (2017).
Secured Credit: A Systems Approach (with Elizabeth Warren and Robert M. Lawless). 8th ed. Aspen Publishing (2016). Prior edition: 7th, 2012. With Teacher's Manual.
Dawn of the Discipline-based Law Faculty, 65 Journal of Legal Education 506 (2016).
Jason Oh
Will Tax Reform Be Stable?, 165 Univ. of Pennsylvania Law Review 1159 (2017).
Quantifying Legislative Uncertainty: A Case Study in Tax Policy (with Christopher Tausanovitch), 69 Tax Law Review 485 (2016).
James Park
Auditor Settlements of Securities Class Actions, 14 Journal of Empirical Legal Studies 169 (2017).
Reassessing the Distinction Between Corporate and Securities Law, 64 UCLA Law Review 116 (2017).
Kirk J. Stark
The Role of Expressive Versus Instrumental Preferences in U.S. Attitudes Toward Taxation and Redistribution, in Philosophical Explorations of Justice and Taxation 167 (edited by Helmut P. Gaisbauer, Gottfried Schweiger, and Clemens Sedmak, IUS Gentium, 2015).
Eric M. Zolt
Taxation and Inequality in Canada and the United States: Two Stories or One? (with Richard Bird), 52 Osgood Hall Law Journal 401 (2015).