We are proud of our business law graduates who now are pursuing careers in law firms, government agencies, corporations and businesses.
FEATURED ALUMNI: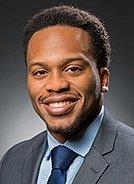 Antoine Gary, UCLA Law '17, Associate, Paul Hastings
Q: What was one of your most memorable/beneficial business law courses at UCLA School of Law?
A: Negotiations
Q: Which law school courses would you recommend for current or incoming law students?
A: Real Estate Finance, Negotiations, Accounting and Financial Skills for Lawyers
Q: What is your favorite memory from law school?
A: Winning the Real Estate Joint Venture Case Competition.
Q: If you could go back, what course do you wish you had taken?
A: I would have taken "Life Cycle of a Business: Transactional Skills", "Entertainment Law" and/or "Venture Capital and the Start-Up Company".
Q: What are your thoughts on the benefits of the Business Law Specialization and/or UCLA School of Law's Business Law curriculum?
A: I was able to tailor my coursework to focus on my interest in real estate. Such a tailored curriculum exposed me to legal and business issues related to real estate that I now encounter in practice.
Q: Can you tell us about your career since you graduated from UCLA School of Law?
A: I am an associate in the Real Estate practice of Paul Hastings. My practice focuses on all aspects of real estate transactions, including finance, acquisitions and dispositions, and leasing.
UCLA School of Law alumni are invited to view the Institute's upcoming events, and stay connected with other UCLA School of Law alumni. See past alumni profiles.