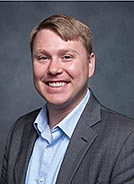 Q: What was one of your most memorable/beneficial business law courses at UCLA School of Law?
A: Business Deals – it was a great opportunity to work on contracts and term sheets and learn how to be a better negotiator.

Q: Which law school courses would you recommend for current or
incoming law students?
A. Business Deals, Business Associations, Securities Regulations, Taxation of Business Enterprises
Q: What is your favorite memory from law school?
A: One of my favorite memories was the national LawMeet competition. I participated for the first time during my 2L year in the regional round. While my team did not move on to the national round, it was a great opportunity to try negotiating and contract drafting. I then competed again during my 3L year. My team won the regional round and was able to compete in New York in the national round. It was another great learning opportunity and I enjoyed seeing how much we learned and progressed as a team over the year.

Q: If you could go back, what would you have done differently/what course do you wish you had taken?
A: In my post-graduate career, I've come to appreciate how much can be learned through real-world experience. UCLA offers a number of experiential learning opportunities, and one that I did not take advantage of was a part-time externship during my 2L or 3L year. This would have been a great opportunity to utilize what I learned in the classroom and interact with practicing attorneys.
Q: What are your thoughts on the benefits of the Business Law Specialization and/or UCLA School of Law's Business Law curriculum?
A: In my practice, there is no "typical" day as I am constantly working within different areas of the law and tackling new issues for clients. The Business Law specialization pushed me to take courses across corporate law practice areas. Now, thanks to that exposure, I've established a strong foundation and understanding of corporate law that benefits my clients and work.

Q: Can you provide a bit of information about your career since you graduated from UCLA School of Law?
A: Since graduating from law school, I joined Paul Hastings in their Palo Alto office as a Corporate Associate. I've had the opportunity to work across practice areas, including in the securities and capital markets, mergers & acquisitions, private equity, restructuring and technology transactions practice groups.