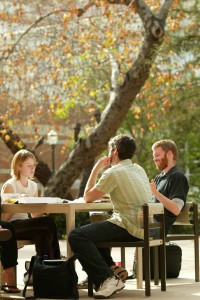 Offering law students the opportunity to tailor their legal education through specializations, UCLA Law was one of the first schools to offer – and remains a leader in – transactional training in Business Law. Today, UCLA is one of only four law schools in the top 20 to offer a degree specialization in Business Law and Policy.
Curricular innovation has been a hallmark of the Lowell Milken Institute for Business Law and Policy from the outset and remains one of its areas of greatest achievement to date. Our mission is to ensure that the Business Law and Policy curriculum remains in the vanguard of innovative approaches to legal education. In undertaking this effort, the Institute presumes that lawyers who work in the corporate world require broad-based expertise. To ensure that fullness of perspective, the program of study:
Combines theory with real-world opportunities for students to explore the intersection of law and business.
Prepares students for a sophisticated practice in a wide range of areas, including bankruptcy, corporate law, mergers and acquisitions, securities regulation, finance, commercial law and taxation.
Equips graduates with the skills necessary to adapt to a changing legal marketplace, to identify emerging areas of economic opportunity and for those who choose to pursue alternatives to practice, to transition into positions of leadership in business, the nonprofit sector and philanthropy.
We further offer several joint degree programs. These four-year programs result in the simultaneous award of a Juris Doctor (J.D.) and a Master's Degree.  Programs offered in conjunction with other academic divisions at UCLA include J.D./M.B.A. degrees through the Anderson School of Management or J.D./M.A. degrees in Afro-American Studies, American Indian Studies, Philosophy, Public Health, Public Policy, Social Welfare or Urban Planning.
In addition, the Master of Laws (LL.M.) Degree, an advanced law certification program designed for international students seeking global legal credentials and for U.S. J.D. graduates desiring advanced legal study, further attests to UCLA School of Law's commitment to delivering curricular excellence in an encouraging, supportive and flexible learning environment that gives our graduates real-world advantages.
Innovative curriculum is only part of the picture, however. Recruiting and retaining the best faculty in the country to "deliver the goods" also is paramount to achieving academic excellence. To that end, our Business Law faculty is comprised of the country's top legal minds in the areas of Bankruptcy Law and Policy, Corporate Governance, Law and Economics, and Tax Policy and Public Finance.  Ultimately, our steadfast dedication to pushing the field of law forward and upholding our tradition of progressive teaching, influential scholarship and enduring innovation is what sets us – and our students – apart from the rest.